Mother's Day Gift Ideas For New Moms
Mother's Day is a wonderful opportunity to honor the important women in our lives. This holiday is an especially big deal for new moms. There is no gift as precious as her new baby, but there are personal, hands-on gift ideas that will make this first Mother's Day one to remember forever.
Mary Fetzer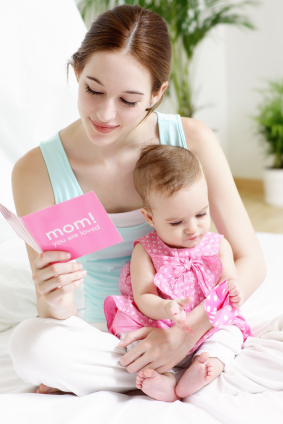 A date with dad
Newborn babies require full attention from their parents, often at the expense of couple time for mom and dad. You can help by arranging a date night so the exhausted parents can get out – even if just for a short while. Present the new mom with a gift certificate to a grown-up restaurant or a couple of movie passes (or both!) so she and dad can spend some quality time together.
But not every new mom wants a quiet night out. With the constant hush-hushing and tiptoeing around the baby, some moms may want to just cut it loose for awhile. Offer your babysitting services while the new parents go out for a jog or bicycle ride. Or get them tickets to a ball game or concert and offer to watch the little one while they're gone.
A nap for Mom
One of the toughest things about being a new mom is the sleep deprivation. Newborns spend most of those early nights awakening every other hour, and by morning mom is simply spent. While most parenting experts suggest she nap while baby does, the new mom is likely to be catching up on housekeeping and other responsibilities. Meanwhile, she's on the alert for every noise baby makes, which can really take its toll after awhile. By mid afternoon, the new mother may be ready to call it a day.
Make arrangements to spend some time with the baby while mommy gets a little rest. Assure her that you can handle whatever arises – feeding, diapering and comforting – so she can nap peacefully with both eyes closed.
Some pampering
The baby is clean and the nursery pristine, but mom may be feeling like she's let herself go. She finds little time for showering, let alone pampering. Why not encourage her to take a little time for herself? Give her a basket of bath and body delights and watch the little one while she relaxes with a long bath. Or present her with a gift certificate to a local spa for a massage, facial or manicure. She may be hesitant to shift her focus away from the baby, but you again can once again assure her that her beloved newborn will be in good hands for that short separation.
Maid service
With all of her new baby responsibilities, the new mom may be feeling overwhelmed in the housekeeping department. With onesies and crib sheets, she has more laundry than ever – and less time to do it. At times she'll feel like the house is getting away from her. And assuring her that a clean house is less important than the baby is not likely to ease her anxiety.
Instead, perhaps, you can hire a cleaning service for her. Ask for referrals, and compare prices and services. Or, better yet, do the work yourself! Roll up your sleeves and clean high-traffic areas like the kitchen and family room while she tends to her new duties as mom.
Time
What all of these suggestions provide is the gift of time. Just being available to help – for an hour or a day – may be the best present a tired new mom could hope for. If mom can get out for even a short time – to shop, get a haircut, or just go for a walk – she'll return to her new responsibilities refreshed and renewed.
Read more on Mother's Day gift ideas: