Tips On Dealing With Disappointment Over The Sex Of Your Baby
Whether you are dreaming of a nursery filled with sugar and spice and everything nice, or hoping for a house full of frogs and snails and puppy-dog tails, the topic of boys versus girls is on the minds of moms and dads who are waiting for the arrival of their wee little one. We know having a healthy baby is top priority, but how do you deal with the twinge of disappointment when the sex of your baby was not what you were hoping for?
Michelle Bruns Maffei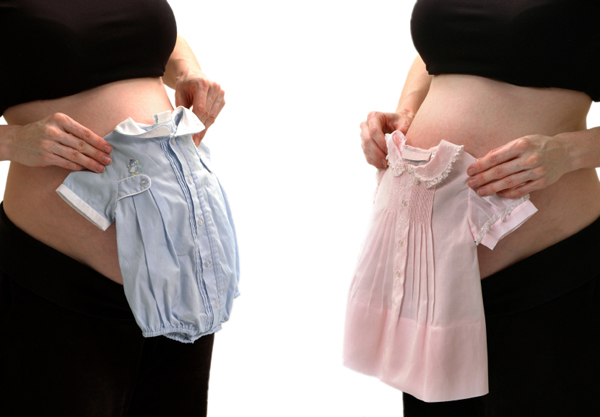 With technology today, it's easier and more accurate (most of the time) to find out the gender of your bun in the oven way before he or she makes his or her grand entrance into the world.
For some people, the anticipation is too great and they want to find out right now! For others, planning ahead with decorating and baby supplies is not at the top of their list and they prefer a delivery surprise. But, what about the parents-to-be who just need time to adjust should their baby gender preferences go bottoms up?
"I just want a healthy baby"
When parents-to-be are asked that oh-so-common question about gender preference of the latest pending addition to their family, many will answer that they just want a healthy baby. But, what about those who really do have strong desires one way or the other for a son or a daughter?
According to Psychologist Dr. Nadia Delshad, "There are many reasons for gender preferences and I have spoken with many women who have felt guilty about theirs. No need for the guilt! Whether it is because you think that boys are easier to raise than girls, that daughters remain closer to their mothers…it is important to understand where the preference originates in order to deal with any unfavorable outcome."
Managing letdown
When the sudden feeling of disappointment creeps into your heart, and the guilt about feeling that way is weighing heavily on your shoulders, Lisa Pederson, LCSW, offers tips on how to cope:
"I always ask [parents with gender preferences] to be honest with themselves. I tell them that they can rub their bellies and talk to their baby growing inside."  Separate the feelings you have about gender from the feelings of the baby on the way, and accept that they will pass. "They can say, 'This is mommy's problem, not yours. You are perfectly you, just the way you are.' From this early on [stage], the parent can begin to have a language to converse with their baby, and one day older child.  The child can then grow up separating out their mom's/dad's feelings from their own," adds Pedersen.
Take baby steps
Here are a few more tips for helping you get over your baby gender blues:
Start by buying a piece of clothing or gender-specific baby item to get you in the spirit of what's to come
Focus on decorating the nursery for your bundle of joy in the colors that are gender appropriate
Narrow down a list of names for your baby-to-be; speaking to your baby by his or her chosen name may help you strengthen the bond the two of you have with your child. Check out BabyNamesCentral.com to get you started.   
Keep the lines of communication open with your belly, and your partner; if your feelings are hesitating to change over the course of a couple of weeks, seek professional counsel to help give you the tools you may need to cope and be the parent your baby deserves
Do not beat yourself up if your gender preference has you feeling like someone popped your excitement bubble. You are not a bad parent! With time, these feelings may become a long forgotten memory, especially once you're holding your precious baby in your arms. Besides, chances are you won't be able to resist a face that looks just like the two of you!

Read more on gender preferences and fetal development: