Fun And Money-Saving Ideas On Customizing Baby's Clothes
Want your baby to look cool without blowing your nest egg on a single bodysuit? Creating custom clothes for your baby at home can be an easy and fun way to outfit your lil' guy or gal in the hippest one-of-a-kind stuff anywhere.
Sarah Caron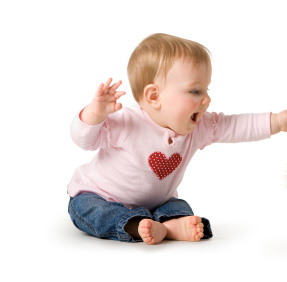 If you lust after the hip and fun tees and onesies at Threadless Kids and go ga-ga for Splendid Littles, but don't have the finances to buy all the cute things you see, then you are going to love these ideas for creating fun and cool garments for your baby right at home. With love, attention and your own twist on design you can make clothes for baby for a fraction of the cost of the posh gear at upscale stores. No special skills required! Ready to get started?
Customize onesies
The first thing you are going to need is the clothing pieces to jazz up. Look for simple designs that will be easy to apply customizing details to, such as bodysuits, shorts and pants in jersey material. Depending on your plans for the customization, you may choose solid colors or simple patterns like stripes or flowers.
In the interest of keeping costs down, you will want to look for pieces that will give you the most bang for your buck. One of the cheapest options is to purchase a five-pack of Gerber onesies. Although they aren't too exciting alone, they are easy to dress up. A 5-pack will run you about $10 on Amazon (with free shipping, if you spend more than $25) or at Babies R Us stores. If you want to step up a little in quality, thickness and softness, Carter's 5-pack of bodysuits (just like onesies) sell for about $15 at Babies R Us and other retailers, though you may find them for less at Carter's outlet stores.
For pants and shorts, Garanimals at Wal-Mart come in a variety of solid colors and are only about $3 each. At Target, the Circo brand is another inexpensive option that comes in many solid colors for boys and girls. Don't forget bibs! Find simple, jersey material bibs and you can dress those up too.
Patch me up
One easy, simple and quick way to transform a ho-hum baby T-shirt into a wow-factor creation is by using patches. Many craft stores like Michael's sell iron-on patches near the fabric paints. If you find something there, fantastic! But you aren't limited to the humble selections there. For a treasure trove of creative, custom patches, check out Etsy.com. Using the search term "iron-on patch" will bring up hundreds of options from sweet and simple to the macabre.
For a simple, classy, classic look to embellish clothes with, check out Mywhimsygirl's shop on Etsy for some fantastic silhouettes in black. And you can get in touch with your inner Day of the Dead and pirate fan at Spooky Kelly's shop, also on Etsy. (Yes, skulls for babies can be oh-so-cool!)
If you choose to use iron-on patches, be sure to follow supplied directions for the ironing so that the patch sets properly. Also, ensuring that the patch is placed in just the right spot is essential, since there are no do-overs.
Stencil it!
The idea of fabric paint might render visions of Girl Scout parties in your head, but today's fabric paints are cooler, easier and can create some awesome designs. For stenciling, pick up spray-on color from Tulip, which is available at craft stores. Be sure that your paint is appropriate for the color shirt you plan on using (some paints do not show up on dark clothes).
For the stencil, check out design stores for whimsical wall stencils. Or, make your own stencils using paper and scissors. Fold up paper a few times and snip-snip-snip as if you are making a paper snowflake (it doesn't actually have to be a snowflake). It may take a few tries to get just the right design, but it's guarranteed to be unique.
When you are making the shirt, take precautions. Be sure to block off areas with plastic or paper that you don't want sprayed with the paint though. Otherwise, you could mar your design with errant droplets. Also, taping the stencil down with painter's tape can help avoid slippage while spraying the color on.
Mixed mediums
Are you ready to get really creative now? Mixing up techniques can add new dimension to your baby's cool custom clothes.
Here's a few ideas:
Create a square, circle or other blocked area of color using spray on paint and a stencil. Once the paint is dried and cured (which may take several days), stitch a patch into the painted area. Be wary of ironing on though, as the hot iron could cause the paint to peel.
Using a flying creature like a butterfly or an in-flight bird, iron a patch on to a position that is off-center and directed upwards (as in, the flyer is flying up).
Use old-school fabric paints in pearl-tones or glitter to add dimension and definition to the patch. For instance, add glittery swirls behind a butterfly and pearl-toned antenae.
Add eyes, nose, mouth and other details to a simple shaped patch using dimensional fabric paints or create an outline to a patch using the epitomous Puffy Paint.
In stitches
If you can stitch, adding ribbon details to the edges of shirts and shorts is a pretty detail that is oh so simple. Simply cut a ribbon to fit the hem, plus an inch or so for overlap, and attach it to the hem with pins. Then, use a secure or decorative stitch to attach it to the garment. Be aware though that you will likely lose the stretchability of the hem (though that shouldn't matter much for babies).
You can also add ribbon details to the waist of bodysuits for little girls for a really cute detail, like tying a pretty bow in the front.

Read more craft and money saving articles: