Tips On Budgeting For Baby
In case you haven't heard the news — raising a family costs money! These days, with our nation in an economic downturn, saving money is especially important. But that doesn't mean you can't diaper, dress and equip your baby in style. Find out 5 secrets of budget-savvy parents to help you cut corners and get the most bang for your buck.
Molly Cerreta Smith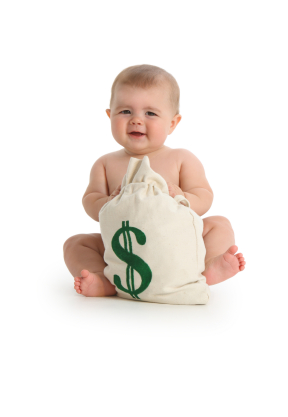 What do budget-savvy parents know that you don't?
Buy in Bulk
It's amazing the number of diapers you'll go through in a day, so finding ways to save on them is a big deal. Buying in bulk is almost always the best bargain at the store or a warehouse such as Costco. There are also numerous websites, such as diapers4less.com, which allow you to purchase diapers directly from the factory. Bonus: They are delivered directly to your home (saving you money on gas, not to mention a trip to the store). Most of the major brands' websites (such as pampers.com, huggies.com and luvs.com) offer coupons and incentives if you sign up for their free clubs or newsletters.
Stock up on the Sales
When you find an item that you use religiously on sale or clearance — baby food (check the expiration date to make sure you can use it all before it expires), onesies, etc. — stock up! Search the paper, mailers and online for coupons and sales. It doesn't hurt to get to the store early to ensure you get what you came for.
One note of caution: It's tempting to buy more than you really need when things are so inexpensive — an adorable hat, even though your baby tosses it off his head every time you put it on, for example. If you're not going to use it — no matter how cheap it is — don't buy it. Stick to your list or limit your sale-induced indulgences to one or two items.
Make a Trade
As a new mom, you probably already have friends that are moms and if not, you will certainly be meeting lots of new moms at your baby's music class or the local park. Create a network of trading — borrow your friend's baby swing in exchange for the walker you received at your shower that your child won't be using for another six months, for example. After your child has outgrown her infant clothes, donate them to a friend who is about to have a baby. Pre-baby, you can also share/swap maternity clothes with friends of your same size and stature.
Borrow Books
Instead of spending a small fortune on books, CDs and DVDs for baby, borrow them from your local library — that way you have an endless supply of books and videos at your fingertips. Marie, mom to 19-month-old Jayden, says, "Our local library even has free story times and a great play area for kids, so it's a fun place for us to go. Plus, we save tons on books."
Shop Secondhand
Buying baby equipment such as exersaucers, strollers, cribs and even clothing at secondhand stores is not only good for your pocketbook, it's good for the earth! Buying second hand items is a great way to recycle and save some green. Plus, most secondhand stores are pretty particular about the items they accept, so chances are the items you'll be buying are like new, anyway. Peruse local garage sales, logon to craigslist.org or sleuth around your neighborhood to find stores that carry gently used baby items. Just because something is secondhand, doesn't mean it's old or damaged. Angela, mom to eight-month-old Sienna, says, "I found a jogging stroller on craigslist for $60 — it was barely used and in almost perfect condition."
Bringing up a baby on a budget can certainly be done. Keep it simple, and remember that your baby doesn't need a ton of stuff. Outside of the necessities — a full belly and a fresh diaper — all he really wants is your love and attention.
Read More: