Tips On Looking Great, Even After Delivery Baby, For Those First Photos Of Your Newborn
We know the most important part of delivering your baby is holding a healthy, happy baby in your arms, but you also want to look good for those first photos of you and baby. After all, those first photos will be placed in baby books and emailed out to everyone you know. No one expects you to look your absolute best (if they do, they obviously have not gone through labor and delivery!), but here are a few tips to look great (dare I say glamorous?) on delivery day.
Vicki Salemi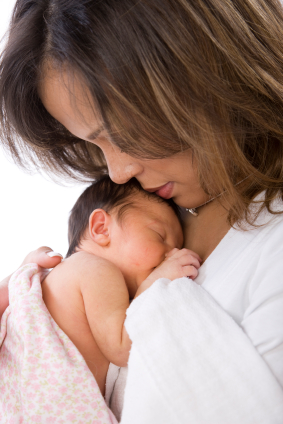 When it comes to delivery day, yes, there are certain things women do in order to feel glam in an otherwise most physically challenging and emotionally rewarding moment of their lives. Whether it's the expectant mother thinking ahead to feel good or simply look good for vanity's sake in photos which will be seen by all, there's nothing wrong with feeling beautiful after delivering your baby.  Since you'll be focused on a healthy delivery instead of a healthy glowing complexion, a little planning ahead goes a very long way.
A little less than a year ago, writer Ciaran Blumenfeld gave birth to her son. "I'm an ordinary mom and not very photogenic," she says.  "I knew my delivery room photos would be seen by several million people." Since Ciaran is a writer for Celebrity Baby Blog and had been blogging reviews about her pregnancy including several months of bed rest, she knew her delivery would be documented, too.
The good news is she had a very pampered pregnancy (thanks to companies sending her products to review) and was exposed to the greatest products on the market, including the very same ones used by expecting moms to-be.
As for the bad news? "I lacked the stylist, the lighting crew, the plastic surgery and the photo retoucher!"
Even if your photos won't be seen by millions, you still want to look great for those first photos with your newborn baby, which means you should plan wisely and sanely for a beautilicious photo shoot after giving birth. "I was not completely mortified by the pictures in the end," she quips. 
Pointers for a glamorous delivery day:
 "Blow your hair dry, get a blow out, just don't have bad hair the week you are due," she explains. If high school girls can dote on their hair every day, you can take the extra twenty minutes on one day. Think about it: don't you want to look your best when the photos will be framed, circulated and Facebooked? For instance, Ciairan has thick, long hair but knew focusing on her hair during this point in time would be well worth it in the end. "I washed and blew dry it before bed, flat ironed in the morning. Worst came to worse, I'd have flat ironed between contractions!" she joked.
If wearing your hair down is out of the question, wear your hair pulled back in a sleek ponytail.
Think portability. Seriously, the beautiful thing about make-up is that you can literally toss a few things in a very tiny cosmetic case. She recommends packing a simple make-up kit with staples like foundation, lip gloss and of course, mascara. "Keep it simple, yes, but barefaced? No."
Know your face and figure out your best angles and work that camera, dah-ling. Ciaran is willing to admit this means shooting down. "Yes, I made my poor husband stand on a chair. Sorry, honey. Millions of people!"
Get new threads. Granted, you'll be in a hospital bed but why would you wear a bland shade of gray to absorb institutional lighting when you could wear pink instead? Instead of wearing a blah hospital gown, she advises packing a non-hospital gown and changing into it before the pics are snapped. Since standard hospital gowns are not flattering, simply get an inexpensive colorful one instead. Ciaran recommends the B.Y.O.G. Hospital Gown. Stylin'!
Take time to regroup, enjoy your newborn baby and freshen up. Immediately after the baby is born your glamour shot doesn't need to be taken. The photos are essentially taken to focus on the baby, not the mom so give yourself time to relax and recover and if you feel inspired, apply the make-up before the informal photo shoot. She adds, "If you take a pic when the baby is ten hours old and you've had something to eat/drink, no one is going to know let alone accuse you of cheating."  




Read More: