Money Saving Tips To Get Your Budge Ready For Baby's Arrival
Seeing the little plus mark on a positive pregnancy test may not only have you seeing blue and pink -- chances are it will have you seeing green, too! It's a known fact that babies cost money, so what can you do to prepare your bank account for your special delivery?
Michelle Bruns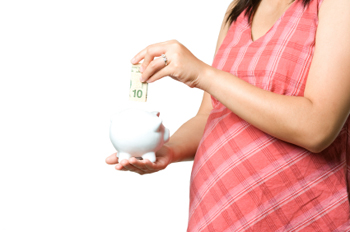 Julie Murphy Casserly, founder of JMC Wealth Management in Chicago and author of newly-released book, The Emotion Behind Money: Building Wealth from the Inside Out, offers these money-saving tips for expecting parents:
Start now - there is no time like the present.
If you and your spouse can't come to an agreement…get a third party to help you facilitate through the financial planning process.
Redefine your priorities - keeping a balance not only for the child's financial needs/goals, but also balancing that with your own retirement planning.
Build up that cash reserve (at least 3-6 months of income) so that if a parent winds up without a job, it doesn't add more stress to the household.
Be collaborative with your partner in this process - if you tend to be a dictator, be cautious, the energy you put out there will come flying back at you.
Now you know what to do to save for your pending arrival, but here are some options on how to grow your tiny tot's piggy bank.
Open Flexible Spending Accounts (FSA)
Save on all-things-baby when you use your pre-tax money. Medical Expense Accounts can be utilized for labor and delivery costs, which can save you up to the amount you would have paid in taxes. Once your little bundle of joy is born, costs for daycare can be covered by the pre-tax funds you've deposited into a Dependent Care Expense account. Check with your employer for details and guidelines.
Accept gently used items
Babies have lots of necessities, but grow out of them quicker than you can say "dirty diaper change." Chances are, if you have a family member or a good friend who is willing to lend you some basics, you'll be cutting out on many costs that Junior will incur. From cribs to infant swings to bouncy seats, hand-me-downs are a great alternative to breaking the bank.
However, car seats should not be purchased second hand, because you cannot verify whether or not the item has been involved in an accident. Let this be the one item you splurge on.
Cut family expenses
"Luxury," or extra expenses, can be cut down once your income is reduced by one parent staying home with junior. Costs such as these can add up quickly, especially if you're saving the money instead of spending it:
Going out to the movies versus renting a movie at home
Hiring expensive landscapers versus paying a neighborhood kid to mow your lawn
Eating out every day for lunch versus brown bagging it
Buying high-dollar gourmet coffee at a coffee shop versus brewing coffee at home
 
The savings on these non-necessity costs can make a difference to your pocket book, especially in the long run. Besides, these can be temporary do-withouts during your family's initial "new baby" phase that can be added in as finances permit in the future.
Sign up for freebies
If baby and your body cooperate, nursing instead of formula feeding saves a bundle of cash. But, if breastfeeding just isn't in the stars for you and your infant, or you choose not to, enroll with formula companies such as Enfamil and Similac for free formula and money-saving coupons. You can also ask your pediatrician for formula samples at the doctor's office or hospital as well.
Clipping coupons is still a tried and true way to save money. Or, with the purchases you already make, signing up for a uPromise account will earn you rebates towards a 529 College Savings Plan (see below). Both fall under the "free money" category and are yours at no cost to you.
Contribute to a 529 College Savings Plan
Seeing Ivy League Schools in your baby-to-be's future? Starting a 520 savings plan is a way to grow your tot's college fund for use on tuition, fees, room and board, books, supplies, and equipment. So long as you use it for the designated purposes at an accredited college or university in the country, your money will grow tax-free. Majority of states will not tax you for earnings when you utilize the funds, and lifetime maximum contribution vary, so check with your individual states' guidelines.
Raising a family can be expensive, but with a little preparation and the right resources, you can help make the transition from pre-baby to tiny tot easier on your wallet. Remember, financial planning now means more time with baby in a few short months!
Read More: