Maternity Clothes Designer Liz Lange Talks Maternity Clothes Must Haves And Hip Diaper Bags
Maternity fashion designer Liz Lange recently gave Pregnancy & Baby the skinny on her new line of vintage Hermes'-inspired convertible diaper bags , as well as the do's and don'ts when shopping for clothes to enhance you're newly pregnant figure. Find out what is on her list of essential maternity clothes to look great without breaking the bank.
Melissa Chapman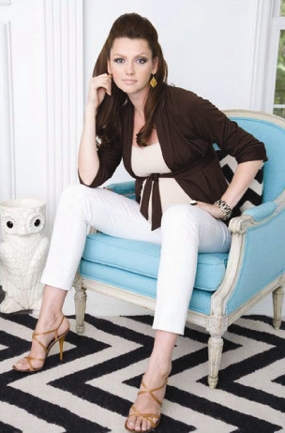 Liz Lange, the grand dame of affordable and chic maternity clothing, has a simple philosophy when it comes to pregnant moms-to-be and fashion; you don't need to sacrifice your sense of style just because you've got a baby bump. 
The Basics
P&B: What should pregnant women keep in mind when shopping for maternity clothes?
Liz Lange: When I started my maternity line 11 years ago, I believed that clothes should be fitted. When you're pregnant the last thing you want to do is wear big oversized things since, instead of appearing thinner, bigger clothes actually make you look amorphous.  Pregnant women should show off their new curves; remember it's a sexy time- that's how you got pregnant in the first place!  When shopping, pregnant women shouldn't have to completely change their style in fact they should look for pieces that they usually wear when they're not pregnant and simply replace them with maternity version.
Pictured, right,  is the Dion Tie-Wrap Sweater, Mia Camisole in Nude, Veronica Cigarette Paint in White, all by Liz Lange.
P&B: What are some of the spring maternity trends that stylish moms in the know
should have on their radar? Also, any money saving tips they should keep in mind when shopping for maternity clothes?
Liz Lange: While there's all this talk about shopping in your closet because of the recession, pregnant women are in the one category where shopping in their closet is simply not going to work for the bulk of their maternity wardrobe. I think the key to sticking to a budget, and creating a pregnancy style that works for you is to splurge on pieces that you know you're going to live in and wear day in and day out.
My must-have staples: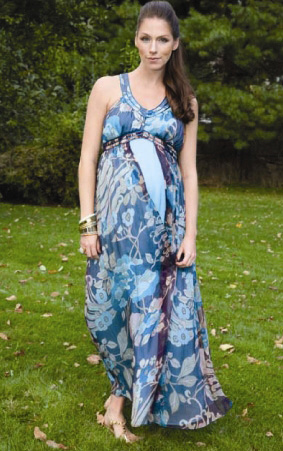 Invest in two pairs of
maternity jeans.
We just launched a new line of denim that covers every wash and style from straight to cigarette pant cuts. Jeans are easy to pair with baby doll and tunic-tops- that you may already have in your closet from your pre-maternity days. And if you can only afford one pair make it a dark wash which offers more versatility.
Ditch the maternity blazer and substitute it with a colorful pre-pregnancy cardigan you already own. Since you're not going to button it up anyway, pairing a cardigan with a dress is a great work outfit too.
You must get a short black dress. This dress can do double duty and work for a black tie occasion or dressed down for work with a cardigan or jacket.
Opt for an A-line mini-skirt. This is an article of clothing that can be worn for a casual trip to the park or dressed up for work. It's also a little sexy and an opportunity to accent your knees and calves.
Choose a few flowing tops, with fun details like ruffles.  You can also pair these tops, with jackets you already have—and let the longer top stick out. Of course sleeveless tops are great too-pregnant women should not be afraid to bare their arms.
Buy at least one pretty floral maxi sundress. Not only is it a hot fashion trend but it can be dressed up with heels or dressed down with a pair of flip flops.
The bottom line: shop in a way that's smart and buy pieces in similar colors and fabrics which will make it much easier to mix and match outfits. For example if you buy charcoal grey or stretchy black pants, get a jacket, skirt and dress in the same color and fabric which will provide you with many outfit combinations.
Pictured, above, is the Liz Lange Penelope Maxi Dress in blue print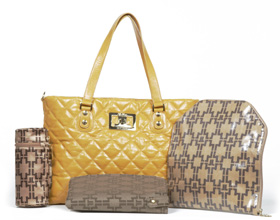 Hip Diaper Bags
P&B: What was your inspiration for this line of convertible handbags?
Liz Lange: Pregnancy should be a celebratory time for moms that shouldn't require a huge style makeover. Similar to my philosophy about maternity clothes, that just because you're pregnant it doesn't mean you have to completely sacrifice your pre-pregnancy style, the same holds true for my bags. In fact, when I was at a point in my life where I was toting around a diaper bag, the only ones on the market looked very cutesy more for babies than moms. And I knew when I could find the right partner, one of my goals was to create bags that I loved inspired by iconic classics like Chanel and Hermes, ones that would hold up forever. 
P&B: Why do you think they're a must-have for moms and the perfect spring fashion accessory?
Liz Lange: These bags, with their bold gold chunky hardware, are truly my dream bag -- pregnant or not! They're an investment because when your baby is done with diapers, they'll take you far beyond the diaper bag stage. The outside looks a regular bag- inspired by vintage designer handbags and everything that comes in the bag, can also be taken out so that the bag can be easily converted to a weekender. The bag is available in khaki, black, white a few pastel colors and even some in animal prints. The bags come with a bunch of accessories that can be carried on their own, or thrown into other bags. These accessories include; a changing pad which zips up and has handles so that it can be carried-on its own, a bottle holder with a wrist loop which can double as  a water bottle holder and  a matching clutch. And each bag includes both a shoulder and long stroller strap for convenience. 
Pictured, right, is the Liz Lange Catherine bag. You can find Liz Lange's premiere maternity line at LizLange.com and her more affordable line at Target.com.
Read More: