Gift Ideas For The Whole Family
Valentine's Day is supposed to be the most romantic day of the year, but the pressure of finding the perfect gift for each of your loved ones can be very stressful. Don't worry! We've taken the hassle out of the heart-day holiday hunting. Here we offer some fun, flirty, and romantic gift ideas for him, her and baby, too!
Molly Cerreta Smith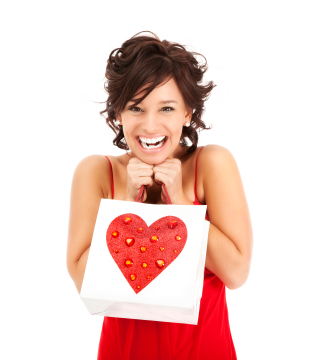 HER
The Ultimate Romantic
If you're sweetie loves walks on the beach, candle lit dinners and roses, make her dreams come true by arranging (far in advance!) a romantic evening a deux. On Valentine's Day many restaurants offer delicious multiple-course meals complete with wine pairings. Be sure to get your name on the reservation list several weeks before the big day! After dinner, take a stroll around the neighborhood, stop at an intimate coffee shop, and present her with a sentimental gift that comes from the heart.
Need a babysitter for this romantic night out? Read, How to find a great babysitter
Busy Moms' Dream
If your lady keeps the house running smoothly and takes care of the kids, consider giving her the best gift she could ever imagine on Valentine's Day — a break! Make her breakfast in bed, and then tell her that you'll be watching the kids for the day while she gets pampered at the spa! Be sure to arrange in advance the reservations at her favorite spa destination. She'll love a relaxing massage or facial, then a manicure and pedicure. She'll return so refreshed, she may even be up for a little love-day nookie — once the kids go to sleep, of course!
Sensual Surprise
If you're looking to heat things up this heart day, surprise your woman with a sexy gift of lingerie. Make her feel desired with a classy — not trashy — negligee along with some sensual oils and lotions. Get the night started off right by popping a nice chilled bottle of bubbly and asking her to model her new fashions. You can take it from there.
HIM
Help Him Tee Off

If your honey is a golf enthusiast but takes some grief on the green, giving him the gift of a golf lesson with a pro is a certain hole-in-one for Valentine's Day. How much can you expect to pay? The PGA TOUR Academy at TPC Scottsdale offers a one-hour private lesson with the head golf instructor for $110, a series of five lessons for $500 and a series of 10 for $900. Lessons with a staff instructor are available at a lesser rate.  Another fun option is the golfers #1 gadget -- the Sky Caddie golf GPS.
For the Tech Addict
If your man loves technology, consider the BlackBerry Storm or the iPhone G3. The Storm offers wireless email, a 3.2 megapixel camera and video recording, multi-media player and built-in GPS, plus much more. The new iPhone has multi-touch interface, accelerometer, GPS, real-time 3D graphics and 3D positional audio. He'll now have no reason not to call to let you know he is running late.
Bucket of Brewskis
You can't go wrong with a gift basket filled with beer. There are tons of online gift basket companies that offer some unique baskets themed by types of beer. Gourmetgiftbaskets.com offers a microbrew beer bucket, an around the world beer bucket, and an Irish beer bucket gift basket, in addition to others. Watch him pop open a cold one and smile. Job well done.
BABY
Show your tot you haven't forgotten about him with these fun gifts:
Personalize it!
There are several online sites that allow you to personalize bibs, onesies, hats and even bottles and sippy cups. Check out ittybittydesigns.com and customize a pair of bloomers or even a precious little pillow for your darling cherub.
Go GaGa for Green
Oompa.com is an extensive site with all kinds of natural, wooden and organic products for kids. The darling Kathe Kruse organic towel pink lamb doll, made from natural materials, absorbs mother's scent and comforts baby with her familiar smell.
Make a Memory
Commission your baby's first work of art with the handprint canvas kit available at redenvelope.com. Complete with a set of four 10-inch square canvases, non-toxic, water-based paints and four bins for paint mixing, this kit helps you to preserve your little heartbreaker's first hand and foot prints.
No matter what you give your loved ones for Valentine's Day this year, make sure you tell them that you love them and share some special time together. No gift can top that!



Read More: