Tips On Dealing With A Surprise Or Unplanned Pregnancy
Surprises are meant to be a good thing, such as a surprise party, an unexpected gift — even an unplanned pregnancy. Though a surprise pregnancy is certainly life changing, that doesn't mean it won't become the best thing that's ever happened! Learning of an unplanned pregnancy can be shocking and frightening at first, but it can also be a beautiful thing. Here we offer some tips on what to do if — surprise! — you've just found out that you're expecting!
Molly Cerreta Smith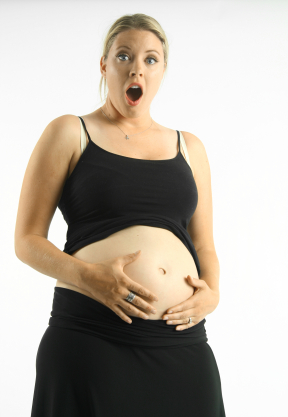 Get Healthy
This should seem obvious, but if you have been drinking alcohol, doing drugs and/or smoking, stop immediately. If you take any prescription medications, check with your doctor to see if they are safe to take during pregnancy. You should also limit caffeine (most doctors will recommend less than two servings per day), and start taking prenatal vitamins, which are available over the counter, as well as a folic acid supplement.
Eating for Two
While you may have heard pregnant women utter the phrase "I'm eating for two," you do not actually need to double your caloric intake. In fact, according to the sixth edition of Your Pregnancy Week by Week by Glade B. Curtis, M.D., M.P.H., and Judith Schuler, M.S., if at the beginning of your pregnancy you are at normal weight, then you should be consuming about 2,200 calories per day in the first trimester. During the second and third trimesters, you need to add an extra 300 calories to that. But don't just load up on "empty calories" found at the local fast-food joint. Maintaining a healthy diet — rich in fruits, vegetables, whole grains, protein and dairy — is good for you and your baby.
Make an Appointment
Schedule an appointment with your ob/gyn as soon as possible. Even in the very early stages of pregnancy you may be able to have an ultrasound done, though you won't likely be able to see a heartbeat until at least six or eight weeks. Don't be afraid to ask your doctor a lot of questions. If you don't have an ob/gyn that you regularly see, it's time to start interviewing. This is the person who is going to bring your child into the world, so you'll want to make sure you completely trust, and feel comfortable with, your ob/gyn. You'll also want to be on the same page about your birth plan — it's okay if you don't have one yet! — such as if you plan on having a natural birth.
Are you trying to figure out your due date? Check out our due date calculator here.
Wondering if you are having a boy or a girl? Check out the Chinese Conception Gender Chart.
Have the Talk
Have a heart to heart with your partner or spouse regarding the new addition. Be honest with each other about your feelings (it's perfectly normal to feel more scared than excited at this point!). You should also start considering your finances — stashing a little extra away if you can — the state of your insurance coverage and if you need secondary coverage, what you'll do regarding work and day care once the baby is born, and responsibilities that you each will handle or share.
Keep Track!
There are some amazing books about pregnancy available at the bookstore or your local library that can answer all the questions you never even knew to ask about pregnancy! Also, take advantage of some great online resources to help you track the progress of your pregnancy, such as the pregnancy calendar at pregnancyandbaby.com. The markers of the development and growth of your baby will amaze and excite you!
Customize your own Pregnancy Calendar here.
Make Memories
Get a pregnancy journal or keep a diary of your pregnancy experiences. You will love looking back on your feelings throughout this incredible nine-month journey. You will grow and change in ways you would have never thought imaginable – even before the little one arrives! Chose a pregnancy journal with pockets or folders to store ultrasound photos and cards from loved ones.
Enjoy the Ride
No woman can fathom how her life will change as she prepares to become a mother for the first time. But the most important thing to remember is to relax. You don't have to have the answers for everything right now. Take it one day at a time, and seek the advice of your doctor, your mom, your partner and your friends. Each may offer a different viewpoint, and you may come up with your own.
While preparing to raise a child is perhaps the most daunting job in the world, it's also lots of fun! Take simple joy in picking out special toys for your little bundle, selecting the décor for the nursery and choosing the perfect name. These special times will be bonding experiences for you and your sweet little surprise.
Get connected with other "surprise pregnancy" moms: