5 Tips On How Pregnant Women And Their Partners Can Focus On Their Relationship During The Holidays Before Baby Arrives
Life as you know it will change forever as soon as your baby bundle arrives. Before long, you won't be able to clearly recall what your days were like before barely controlled (but utterly welcome) chaos descended upon your world. Which means now is the time to focus on yourself and your partner – a duo soon to become a trio. Find out 5 tips on how to celebrate the last Christmas before baby.
Elizabeth Weiss McGolerick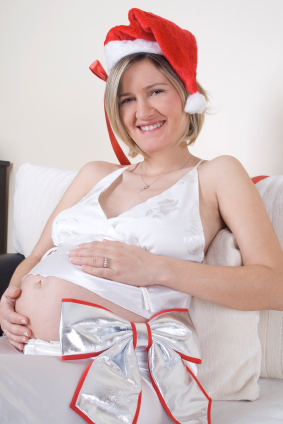 You don't have to spend beaucoup bucks to make this holiday one to remember. The key is to design this "last" holiday before your child's birth so that it's full of all the things the two of you love, the activities that define you as a pair. Here are some suggestions for making your jolly holiday memorable.
1. Invite others in
While one of the most important considerations is to take time for each other throughout the holiday, you'll soon discover that the amount of time you have for friends post-baby will dwindle to a minimum. Schedule a casual gathering at your favorite restaurant or have a wine and cheese open house – no kids allowed – so you can mingle with your favorite adults. Minimal effort, much fun and a great way to celebrate the season in style.
2. Act it out
There's nothing cheesy about getting a little sentimental and pulling out your wedding video or scrapbooks and reminiscing. Recreate your favorite moments as a couple. Relive your first date from start to finish or talk about your most cherished experiences together. Come sleepless nights and busy days it can be easy to forget why you got hitched in the first place. Revel in your union, and in what your love has created.
3. Smart shopping
You're likely to get plenty of gifts about baby and for baby. This season, be sure to focus on what your other half loves as you purchase their gifts, rather than trying to shop with baby in mind. Whether your budget is $10 or $1,000, remember who you're buying for and focus on each other. Very personal or personalized gifts will remind you of your love for each other and why this baby is on its way in the first place.
4. Get away
Whether it's to a country bed and breakfast or the penthouse at the ritziest hotel downtown, there's no better time to get away than when you have some built-in time off during the winter holidays. Allow this season to help you plan something festive. Take a weekend trip to New York City to see the sights and sounds. On New Year's Eve go out for dinner and dancing, or splurge and celebrate in Las Vegas. The point is – get away and enjoy an outing that you'll have less opportunity to take advantage of once you have a child. One thing to keep in mind, the American College of Obstetricians and Gynecologists advise that the safest time for a pregnant woman to travel by air is during her second trimester. Act accordingly. Read more pregnancy travel tips here.
 
5. The best gift
The finest gift you can give your other half before baby arrives is the promise that you will do your best to be there for them once this new person enters your world. Dad can get a little jealous of all the attention baby gets, and mom can get a little overwhelmed by all the demands swirling around her. Baby will be the focal point of your life soon enough and you'll wonder what happened to those sweet moments you used to be able to sneak for one another. Don't let them fade away – your relationship will be that much stronger for it, and your child that much happier.
No matter how you celebrate the holidays, it's all about enjoying each other before baby comes. In fact, some quiet time, reflection, and moments of snuggling on the couch together staring at the lights on your Christmas tree can be just enough.
Read More: