Pregnancy Stress Tips During Christmas
Pregnant women are already at a heightened state of stress, with changes in everything from their hormones, to sleep patterns, to diet, to the anticipation of having a baby. Add to this, a Christmas season filled with family obligations, financial stresses of gift giving, and a calendar packed with little time left to relax, and it's easy to see why pregnant women need to put relaxation at the top of their holiday wish list.
Tracy McGinnis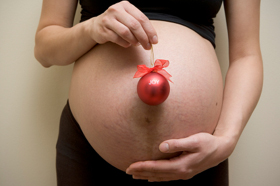 Catherine Olsen, PhD, APRN-BC, an Assistant Professor of Nursing at Seton Hall University says that while most women will not be adversely affected by stress during their pregnancy, "Recognizing one's level of stress and adapting healthy ways to cope may help to avoid complications that can arise from high levels of long terms stress during pregnancy."
Are You Stressed?
Olsen lists the following as stress symptoms to be aware of:
Fatigue, even after a full night's sleep
Irritability
Inability to relax
Muscle Tension
Sleep Disturbances
Change in appetite
Once you've identified the stress it's time to do something about it, and depending on who you talk to you'll get a wide variety of ways to help minimize and reduce stress.
1. Exercise
Walking, swimming, yoga, and even low impact aerobic activity are all great ways to relieve stress during pregnancy, according to ACE (The American Council on Exercise).
"Swimming and other water exercises place muscles in a relaxed, non-weight-bearing position, providing relief to those who are carrying more pressure and stress as a result of pregnancy," according to Clare Diem, a spokesperson for ACE.
2. Finding Quiet Time
Dr. Paulette Koufmann Sherman, a licensed psychologist and author of "Dating from the Inside Out," has a five month old son, and says de-stressing during pregnancy with things such as reading, walking, journaling, and creating things such as baby collages, are great ways to make time for yourself and relax.
Ellie Peterson, meditativemovements.com, likes to combine both exercise and relaxation techniques such as affirmations to relax. "Combining both exercise (care for self) and affirmations (care for soul) is the foundation of meditative movements," explains Peterson. "It provides a way from women to embrace change by repeating positive, affirming mantras."
3. Diet
Reproductive Endocrinologist Dr. Mary Hinkley of Reproductive Science Center of the Bay Area suggests eating a healthy meal before attending holiday parties, and avoiding simple sugars and simple carbs. "Go for high fiber, whole wheat, veggies and whole fruit," says Gullick.
4. Finding Balance
Olsen suggests uncomplicating your life in order to free yourself of stress. "Simplify the holidays by enjoying time with friends and family over celebrations that cause stress."
Olsen also suggests making a list of things that need to get done, and getting help from loved ones in order to complete the tasks you have on that list. "Identify and use your support network," says Olsen.  "Find those people in your life that are positive and reinforcing of all that is good for you and your baby.
5. Know When to Say "No"
Reproductive Endocrinology Associates of Charlotte (REACH) psychological consultant Eugenia Gullick, PhD, says that if you have any scheduled events that will be difficult for you – avoid them.
"Plan something during the holidays that you can look forward to," says Gullick.  "Enjoy and focus on the parts of your life that are going well."  Gullick also says it's a good idea to spend time with loved ones who nurture you, and avoid those that create stress in your life.
"And remember that you'll probably feel much better after the holidays are over," adds Gullick.  "Set your sights on January!"
Read More: