Our Sex Educator Answers Your Top Pregnancy Sex Questions
As a certified sexuality educator, my latest mission is to give you the answers you want and deserve about sex during pregnancy. Scanning my personal sexuality library from ceiling to floor, it's no wonder you're craving to learn more. There's minimal sex information available for moms-to-be. For some common Q & As and others no one's writing about, read on. After all, we're working with a time frame that expires the moment you deliver your little bundle.
By Amy Levine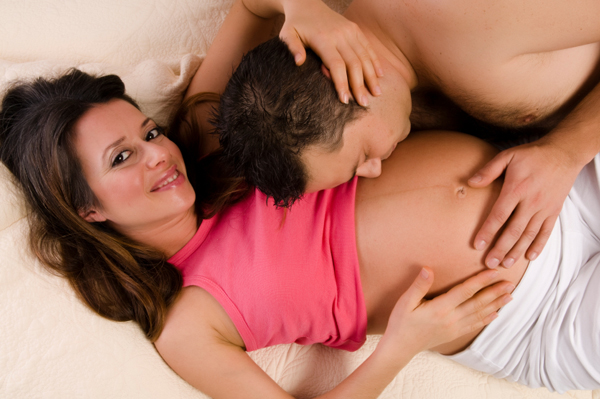 Is vaginal penetration safe throughout my pregnancy?
Yes, intercourse is healthy unless your doctor or midwife has given specific instructions or recommendations to abstain. These concerns are usually related to high-risk pregnancies and conditions. If you're using sex toys, you want to be sure they're non-porous (these don't have microscopic holes to trap infection causing bacteria), phthalate-free, clean, well-lubed with a water-based product and not used with force. There isn't a definitive answer on the subject of toys although they're considered to be safe. If you're concerned, the best bet is to use a vibrator on your clitoris—a surefire pleasure inducing spot for many women.
What are the best positions during pregnancy?
As your body changes, sex becomes more challenging. The key is to welcome the opportunity to be creative. This is especially true around the second trimester when it's best to avoid being on your back for significant periods of time. Positions to master in pre-mommy mode: Woman-on-top, side-by-side and doggie style. Remember, it's not uncommon to spot or bleed a little after sex, especially in the second or third trimester. This is likely due to blood vessels that have burst on the surface of the cervix. Orgasm can also cause slight cramping. In either case, contact your doctor to be sure this is "normal" for you.
While you may forget what your vulva looks like since it's hidden below your big belly, you don't have to forgo oral sex. Try getting on all fours, and have your partner go down on you from behind. It's a bit Cirque de Soleilesque, but can do the trick. For clitoral action, use a bullet-shaped vibrator to increase satisfaction. Just be sure your partner never blows air into your vagina. On rare occasion it could cause an air bubble to form, block a blood vessel, and be life-threatening to you and your baby.
Can an orgasm induce labor?
It's possible if you're at risk for pre-mature labor or are close to delivery. Orgasm releases oxytocin that causes uterine contractions. Also, semen contains prostaglandins that can have a similar effect if ejaculated into your vagina during these conditions.
What are the basics about STDs and pregnancy?
If you think you may have been exposed to an STD, or are having an outbreak, it's important to seek immediate medical advice and a check-up. If you're concerned about your partner, avoid risky sexual activities. Or, reduce the risk of transmission—by always using a latex or polyurethane condom for sex or dental dam for oral sex— from start to finish every time. For more info, read this fact sheet from the Centers for Disease Control and Prevention.
I'm in my third trimester and my breasts are producing a milky substance.  Is it okay to taste it during sex play?
Yes, but just a lick. The fluid, known as colostrum, is an antibody and nutrient-filled fluid released as a precursor to breast milk. And, it can leak from your nipples when you're sexually aroused. However, since it's intended to sustain your baby for the first few days after she's born, it's best to let the pre-milk linger in your breast for now.

Read More: