Doing Yoga While You're Expecting
During pregnancy, yoga -- with the right modifications for your growing belly -- can help you bond with your unborn child, create an overall sense of calm and better prepare your body, mind and soul for childbirth and motherhood.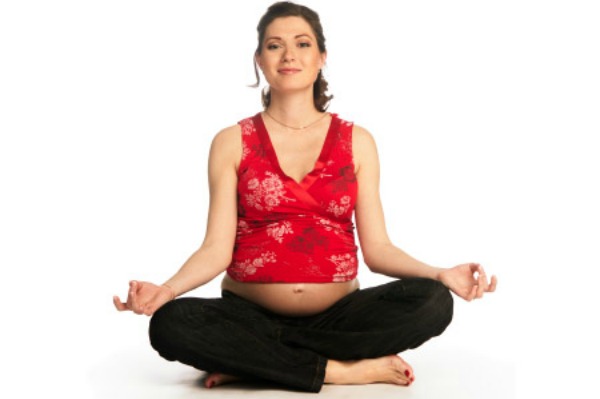 For centuries, people have practiced yoga to relieve the stress in their lives. You probably know by now how stressful pregnancy can be sometimes!
Flexibility and strength
"The word 'yoga' means union," says Susan Rothlein, a certified prenatal/postnatal yoga instructor in Winter Park, Florida. "In the physical postures of yoga, this union is of the attention of the mind and the awareness of the breath with the movements of the body."
According to Rothlein, prenatal yoga provides a program of safe, gentle and effective exercises. "Yoga postures are included to develop flexibility and strength," she says. "Yoga strengthens the abdominal, back and pelvic muscles, improves circulation, aids digestion, exercises the spine and increases overall comfort." Yoga can also help alleviate many of the common aches and discomforts of pregnancy, such as constricted breathing, constipation, swelling, back pain, sciatica and insomnia.
"Techniques of good posture are taught to bring awareness of good body alignment into everyday life, increasing comfort," she says. "Many yoga poses not only help prepare the body for giving birth, but also can be helpful during labor."
According to the American Yoga Association, there are more than 100 types of yoga. Many instructors, however, have developed programs specifically for pregnant moms who are looking for a way to stay physically fit and in touch with themselves as well as the life growing inside them.
Lisa Atkinson, mother of four, gave yoga a try during her most recent pregnancy when she and her husband decided to have a home birth. "I knew that this made it even more important to stay healthy and active so that I might have an easier time during the birth," says Atkinson, 27, of Wichita, Kansas. "My midwives encouraged me to keep up with the yoga every day, as it helps you to learn relaxation methods ... as well as flexibility and muscle control. I really enjoyed it while pregnant and have continued with it. It's a great way to stay flexible and healthy!"
Getting started
The best place to start is with your local yoga studio or fitness center. Once you learn the dos and don'ts for yoga during pregnancy -- what positions to avoid, etc. -- then you can use books or videos to supplement your classes, many instructors say.
"A good instructor will help students adapt stretches and postures for their individual needs," Rothlein says. "There's also a lot of benefit in being in a class with other pregnant women and being able to share experiences of pregnancy, give and get support, and ask questions."
Kimberly Allcock, 29, of Edmonton Alberta, Canada, is pregnant with her first child. She began practicing yoga before her pregnancy and has continued through it. Yoga, she says helps her to relax and provides pain relief through stretching. She says it has also helped ease a minor anxiety and depression disorder, for which she stopped taking medication when she decided to have a baby.
"I think the combination of maintaining muscle tone and flexibility, increased body awareness and ability to focus and meditate will be very useful tools during childbirth," says Allcock, who attends yoga classes twice a week. "Postpartum, I believe that having maintained strength and flexibility throughout pregnancy will result in faster recovery, and continuing yoga postpartum will re-stabilize the core muscles -- abdomen and back -- and help in dealing with fatigue/depression."
Andrew Levinson, MD, medical and yoga director at Vitality Health and Wellness in Aventura, Florida, says yoga during pregnancy can do more than help alleviate aches and pains: It can help moms-to-be gain weight steadily, decrease swelling and maintain glandular balance. "As the (baby) is in gestation, the mother's body undergoes dramatic changes physiologically that are both rapid and intense," says Levinson, who has been teaching yoga for more than 12 years. "Yoga's impact on the endocrine system compensates for these changes and helps address mood swings, irritability, fatigue, etc."
Yoga and childbirth
Rothlein says some yoga techniques, such as controlled breathing, focus and relaxation, can help during labor and childbirth. "They draw on this a lot during labor. Students who labor in situations where they are able to move around and change positions often tell me that they use some of the yoga postures while in labor," she says. "During class I suggest postures that may help. In general, yoga helps women learn to listen to and trust their bodies, to get in touch with their inner wisdom and strength for giving birth. My students who have had cesarean births tell me that doing prenatal yoga helped them recover more quickly from the surgery."
Carmela Cattuti, a Boston, Massachusetts nurse who has specialized in prenatal and postpartum yoga for eight years, says the detachment skills learned in yoga are important during labor. "It's easier to move through labor when detachment is developed?It brings the realization that no matter what is going on around the woman during labor, she can still keep focused and move ahead with her process."
Cattuti says yoga also can help pregnant women become more aware of their abdominal muscles. "Doing abdominal work is important," she says. "It increases energy and makes the muscles stronger -- muscles that are important for delivery."
After Baby
Pregnancy is a major nine-month transformation. And for several weeks after the big event, your body again goes through big changes. "The postpartum period is usually considered to be from right after birth until eight weeks. During this time, the greatest physical changes take place," says Rothlein, who also teaches a mom and baby yoga class. "It usually takes much longer than eight weeks for a woman to begin to feel like her normal self physically. Even if you didn't discover yoga during pregnancy, the postnatal period is a wonderful time to start yoga as you adjust to the many physical and emotional changes going on in your life." In fact, many yoga stretches can even be done while holding or nursing your baby.
"Moving and relaxing together during yoga is a great way to bond and have fun with your baby while toning your muscles," she says. "Babies are very attuned to their mother's breathing patterns, so practicing deep relaxation together is very calming and healing for both of you."
Helpful resources
More about pregnancy health & fitness
Prepare for a healthy pregnancy
Want a fit pregnancy? Try Prenatal Dance
What not to eat while pregnant