A New UK Study Plans To Examine A Dad's Bond With His Baby, From Before Birth Through The Early Months.
A new UK study plans to examine a dad's bond with his baby, from before birth through the early months.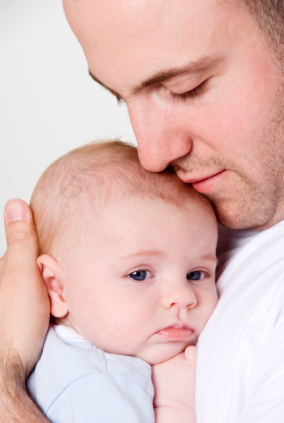 Earlier today, I shared several articles about a
dad's involvement in his baby's life
. A study that will take place in the UK, conducted by researchers from Oxford University, plans to examine how dads feel about their baby - before
and
after the baby's birth. The main focus will be the bonding process that occurs between a first-time dad and his baby. The research will span an eight month period of time and will gather answers through questionnaires, as well as blood! The study will cover the following:
The dad's expectation of fatherhood (when the mom is seven or eight months pregnant)
The dad's experiences when the baby is two weeks old, three months old and six months old
Four different blood samples to determine whether hormones affect bonding
The purpose of the study is to discover services that can help ready a father for the birth of his child and assist him after the fact. "A child's development is strongly influenced by the relationships it builds during the early years of his or her life. Yet at the moment there is little understanding of the impact that a dad has, " said Dr Anna Machin, an evolutionary anthropologist at Oxford University. "We hope this research will deepen our understanding. We are particularly keen to help fathers who find it hard to bond with their baby. We hope this research will help young children grow up to be secure, confident adults and give their fathers a positive parenting experience too." "Few studies have focused upon the father, and those that do have tended to go to the mother for information. This study aims to give fathers a voice and look at the important role they play."
More on bonding with baby
8 Ways for dads to bond with baby
How dads can bond with baby
The importance of the father-child bond