From Travel Tips To Baby's First Thanksgiving Foods To Baby Names, We've Got You Covered. Check Out Our Helpful Thanksgiving Articles On Pregnancy And Baby.
From travel tips to baby's first Thanksgiving foods to baby names, we've got you covered. Check out our helpful Thanksgiving articles on Pregnancy and Baby.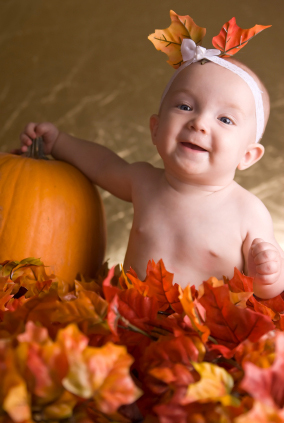 Sure, today is Halloween, but that means it's time to begin thinking about the next big holiday: Thanksgiving! From traveling tips to Thanksgiving baby food ideas, we have you covered. Check out some of our Thanksgiving articles to help you and your family enjoy the holidays.
5 Thanksgiving baby food recipes
. We have plenty of great homemade baby food recipes for baby's first Thanksgiving. After all, Thanksgiving is all about spending time with family, giving thanks and eating delicious foods. There's the turkey, stuffing, sweet potatoes, mashed potatoes - your list just goes on and on, right? Let your young eater in on the fun with a few easy dishes that are perfect for beginning eaters.
First Thanksgiving foods for baby
. Make your baby's first Thanksgiving extra special and yummy with food safely prepared just for him. Find out how to create a meal baby will love, and find out which Thanksgiving foods to avoid.
Your little pumpkin: Baby names for Thanksgiving
. When it comes to baby naming, holidays and seasons are are very popular sources of inspiration. Here are some fun and seasonal name ideas for Thanksgiving babies - inspired by the Pilgrims, the ancient Greeks... and even your very own family.
Thanksgiving baby safety tips
. If your baby is going to attend a Thanksgiving celebration, there are some safety tips to be aware of.
Thanksgiving travel: When baby visits Grandma
. Think you need to bring a household worth of goods when you visit your children's grandparents? Guess again! We have some tips to help Grandma get her place ready for baby.