Jacadi's Newest Line Of Baby Girl Clothing Is Out. The Sweetness Is Almost Too Much!
Jacadi's newest line of baby girl clothing is out. The sweetness is almost too much!
Hold onto your credit cards! When you see the newest Jacadi line, you might make rash decisions.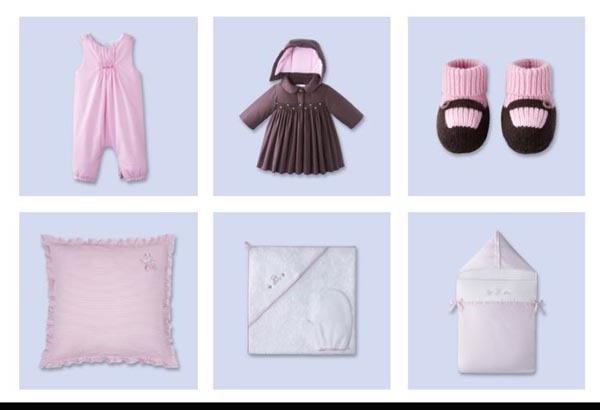 Clockwise, beginning at the top left:
Checked poplin romper
($90). Pretty overalls in spritely pink checked poplin. Hand-embroidered smocking and decorative rosettes at front. Mother of pearl buttons at shoulders. Elasticized cuffs. Fully lined and lightly padded for comfort.
Hooded canvas coat
($149). A feminine flared silhouette makes this coat irresistible. Hand-embroidered smocking and decorative rosettes at banded waist. Mother of pearl button and hidden snap closure at front. Detachable hood. Fully lined in checked poplin. Lightly padded.
Two-tone knit booties
($43). Cozy toes feel at home in wool blend booties with a touch of alpaca for extra softness. Button strap across instep creates a trompe l'oeil mary jane effect. Ribbed knit turnback cuffs for good support.
Striped pillow cover
($56). This pink and white pillow cover embroidered with a Liberty butterfly is the perfect finishing touch to the Promenade au Parc nursery collection. Dim: 15 x 15 in.
Organic cotton towel set
($68). Organic cotton bath towel with hood and embroidered teddy bears, toys and a gingham trim. Matching washcloth mitt.
Organic cotton gingham bunting
($114). Nestle your newborn in this organic cotton bunting. The pink gingham shell is hooded and padded for comfort. Hand-embroidered toys decorate the ruffled lapel. Ideal for the stroller or car seat. These adorable clothes and nursery items make me swoon, but they would remain on my "if budget weren't an issue" list. How about you? Do you splurge on baby clothes or are you budget conscious?
More on baby clothes
Harry Potter baby clothes
Rock Me: Simple baby clothes
How to make custom clothes for baby