Beginning On June 28th, The Government's Ban On The Sale And Manufacture Of Drop Side Crib Takes Effect.
Beginning on June 28th, the government's ban on the sale and manufacture of drop side crib takes effect.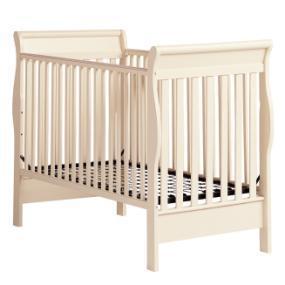 The government's ban on drop side cribs goes into effect today! Back in December 2010, the Consumer Product Safety Division held a vote and unanimously agreed to
finally ban drop side cribs
. Beginning today, June 28th, drop side cribs can no longer be manufactured or sold (this includes resale cribs). I'm so glad to see this happen. Drop side cribs are dangerous. The hardware can allow the drop side to detach, creating a chocking, suffocation and injury hazard to babies. In fact, there have been so many drop side crib recalls that I've lost track. In November 2010,
90,000 drop side cribs were part of a mass recall
. In January, hundreds of
drop side cribs were recalled
. Last month, over
20,000 drop side cribs were included in a recall
. Are we noticing a trend? If you have a drop side crib and you can afford to, please consider replacing it.