Skip Hop Zoo Bibs: Cute, Functional And Fun.
Skip Hop Zoo Bibs: Cute, functional and fun.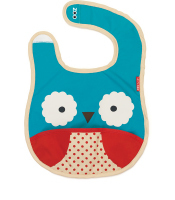 If you have a baby, you certainly use bibs. Of course, the type of bib depends on your baby's age. My kids will hate me for this one day, but they still wear bibs during meals. Yes - at 2.5 and 4 - my kids wear bibs. Once they were eating baby food, I found that that most functional bibs were the ones with the little "trap" at the bottom - so that whatever dripped down was caught. They are bigger than cotton bibs and cover most of their clothing. Those were also the most convenient and to me, the least wasteful, because I could just wipe them clean. Today, I came across
Skip Hop Zoo Bibs
. Hello, cute! From the website:
The adorable bib that tucks into its own built-in pouch. Lightweight and water-resistant with a handy catch-all pocket to keep things neat and tidy at mealtime. ZOO Bibs have a clever tuck-away pouch—perfect for travel or for storing when dirty. Adorable ZOO faces and details are sure to delight baby at every meal.
If you're little one is eating baby foods or solids, I promise you'll be so happy to have a bib that catches what doesn't make it into his mouth. I also noticed that the Skip Hop Zoo Bibs are BPA-free, phthalate-free and PVC-free.
More on solid foods: