Have You Seen The New Valco Twin Stroller In Pink And Blue? If You're Expecting Twins, You Should Check It Out! And If You Buy It, Expect Me To Be Very, Very Jealous!
Have you seen the new Valco twin stroller in pink and blue? If you're expecting twins, you should check it out! And if you buy it, expect me to be very, very jealous!
I admit it: I saw the new (coming this month!) Valco Baby Twin Tri Mode Boy Meets Girl stroller a while back and told my husband, "We have to have twins. Now! Boy-girl twins!" He rolled his eyes, didn't ask any questions and walked away. Apparently, he has learned that when I say these sorts of things, it's best not to ask any questions. Although in this case, my reason was good. I mean, look at it!!!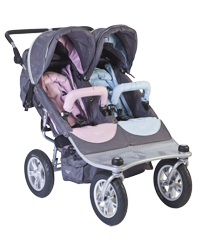 Does it need any explanation?! It's no secret that I love our Valco Twin Tri Mode. I might have gushed a little when I wrote about strollers several months ago. I still love it - just as much as I did when I wrote that five months ago, and just as much as I did when I began using the Valco Baby Twin Tri Mode almost two years ago.
But I had no idea it came in pink and blue. Hello! (Yes, I can be prone to the impractical every once in a while. The reason my children share a room now is because I found the cutest toddler/preschooler furniture ever and determined that it would be perfect in a shared room. Okay, I also felt like sharing a room would be good for them, but the furniture really encouraged me to consider the idea.)
I should be glad that our Valco has held up so well after two years of daily use, trips to Disneyland, and walks around Sea World, and doesn't need replacing...
As I said before, a Valco Baby Twin Tri Mode is an investment. They are not inexpensive, but with strollers, you often get what you pay for. And it cost me less than the several less expensive single strollers I went through before finding a stroller that I liked. I wrote an honest review in my Baby gear: Strollers post, including what I perceive to be the drawbacks (it's heavy and it's difficult to lift in and out of my SUV). I still stand by what I said and we still use our Valco almost daily.
And that means that I should definitely update ours with a Boy Meets Girl, right?!
Following is a video from the Valco Baby website.
Do you have a stroller you absolutely love? Share!