A New Study Released By The Centers For Disease Control (CDC) Shows That The Birth Rate Is Down, But The C-Section Rate Is Up. Keep Reading For More Info.
A new study released by the Centers for Disease Control (CDC) shows that the birth rate is down, but the c-section rate is up. Keep reading for more info.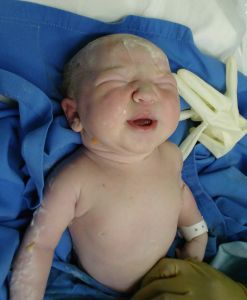 The Centers for Disease Control released vital statistics for 2008 about birth trends and the results are interesting! In 2008, the number of c-sections was up while the number of births was down.
MedPage Today
released a summary of the statistics and I'd like to share some of them with you.
More women in their 40's and are having babies. In fact, the birth rate among women between the ages of 40 and 44 is the highest it has been in four decades.
More unmarried women are having babies. Unmarried mothers had 40% of the babies who were born in 2008.
However, fewer women in general are having babies overall. Between 2007 and 2008, the birth rate dropped by 2%.
Sadly, c-section rates are up. In fact, 32.3% of all babies born in 2008 were delivered via c-section. That represents a 2% increase from 2007 and is the 12th consecutive year that c-sections rates have risen in the United States. Perhaps it's time to take a page out of Florida's book when it comes to saying no to
medically unnecessary deliveries
. I found this interesting:
The rate of C-section births has climbed by 56% since 1996, but the CDC reported that the pace has slowed in recent years. The increase in the proportion of C-section births from 2007 to 2008 occurred across all ages, races, and ethnic groups, the report said. (Source: MedPage Today)
On a positive note, the number of teenagers giving birth decreased by 2% for teens between the ages of 15 and 19. While this data probably doesn't affect you personally, I always find it interesting. Of particular interest to me is how much the c-section rate increased from 1996 to 2008 -- 56% in just 12 years. In my opinion, that's very clearly a problem and I really wonder how much convenience plays into that as opposed to medical necessity. There is obviously a time and a place for medically necessary c-sections without a doubt, but an increase like that makes me wonder exactly how much medical necessity is at play.
What's your opinion? Do you think too many women are having unnecessary c-sections?