Have you seen the ridiculous pregnancy photos floating around the web? Do YOU have any? Check out one Pregnancy and Baby blog reader's story!
If you didn't read yesterday's post on
adoption maternity photos
or the really thoughtful, productive comments left by readers, I encourage you to do so. I wrote about adoption maternity photos and I appreciate everyone who shared their thoughts -- some finding the adoption maternity photos ridiculous, others funny and other still downright offensive. As I said yesterday, I find them very distasteful. I also want to say thank you to the many people who shared links on their blogs to that post. Discussion and differing opinions are how we learn -- at least that's how I learn -- so I'm appreciative of it being shared and discussed. As I've always said, I don't have the market cornered on "right," in all circumstances (I totally think I do in some!), and in cases like these, there is a wide range of thoughts. So! While yesterday's topic was a little heavier, today's is just plain funny. Awkward pregnancy photos. I was inspired by a
comment
left by "Embarrassed Honestly." You must read it:
I took one of those horrid series of pregnancy shots with my first child. They literally had to cut my va-jay-jay out of the shot because I was showing too much action. Well, what do you expect when you are litteraly bigger than a moose and haven't see your va-jay-jay in months? When the photographer made me feel bad (like I did it on purpose!) that was when I realized it was kind of lame. I can whip out that album and show you me in my satin robe, pearls around my neck, all glammed up, bent.over.a.chair!!! Like a porn star! What the hell was the photographer thinking when he had me pose that way?!?!
Ha! I have no idea, but the truth is that Embarrassed Honestly is not alone. The website that inspired yesterday's post,
Awkward Family Photos
, has a plethora of awkward maternity shots! You really must take a look at their
pregnancy
photos. Otherwise, you'll be missing out on these gems: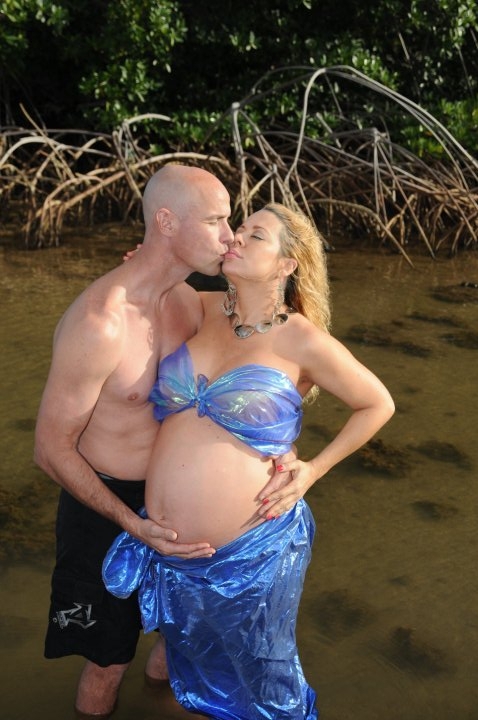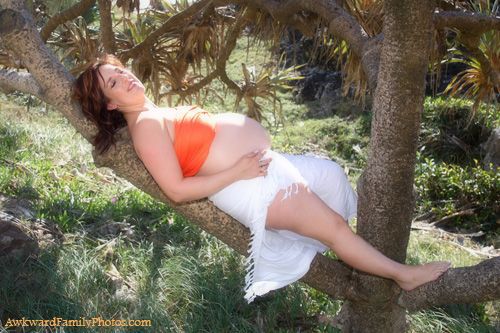 Photo credit: Awkward Family Photos
Yep. Seriously. Hop on over to the Pregnancy section of Awkward Family photos because there are a lot of these!
>>Now, be honest, do you have embarrassing pregnancy photos? Let's hear it. I'm not sure anyone can outdo Honestly Embarrassed's story, but it's worth a try!