Car seat safety overview.
According to the Centers for Disease Control,
Motor vehicle injuries are the leading cause of death among children in the U.S. But many of these deaths can be prevented. Placing children in age- and size-appropriate car seats and booster seats reduces serious and fatal injuries by more than half. (Source)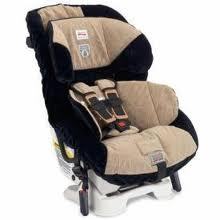 That alone should reinforce the importance of placing your child in a car seat at all times. Even if she's crying and unhappy and your spouse is driving, you shouldn't take her out of the car seat when you're in a moving vehicle. Even for a second. (In the absence of an emergency, of course). The CDC notes that using a child safety seat in passenger cars reduces the risk of death in infants by 71%. However, simply installing and using a car seat doesn't mean you're doing it correctly. I'm insanely paranoid about car seat installation. So much so that I won't install (or uninstall) the Britax car seats we use for our kiddos on a daily basis. Those things are beasts and I'm not very mechanically-minded. (I know, I know, it doesn't take a genius to install a car seat, but you should see me try. You'd wonder about my level of intelligence if you did!) I do know how to install our smaller seats we use for travel and have done that on occasion. Here are some tips for car seat safety, as well as where to look for more information.
Infants should ALWAYS be rear facing
. The National Highway Traffic Safety Administration reccomends the following:
For the best possible protection keep infants in the back seat, in rear-facing child safety seats, as long as possible up to the height or weight limit of the particular seat. At a minimum, keep infants rear-facing until a minimum of age 1 and at least 20 pounds. (Source)
However, the
American Academy of Pediatrics
now
recommends that children remain rear facing longer
-- until the age of two or until they have reached the maximum height and weight recommendations for the car seat model you are using. For more specific information, see an earlier post here at Pregnancy and Baby blog about the
new suggestions to keep children rear-facing until age two.
Use the LATCH system
. Lower Anchors and Tethers for Children (LATCH) are installed on almost every single car manufactured after September 1, 2002. The HNTSA's website has very detailed instructions, as well as videos, on
how to use the LATCH system
.
Make sure you're installing the car seat correctly
. Go to the NHTSA's website and enter your zip code to find a
child safety seat inspection station location.
It's worth having someone who knows exactly what they're doing -- without a doubt -- to take a look and verify that you are indeed installing the car seat correctly (or, if you're not, to show you how).
Register your car seat.
If you don't register your car seat directly with the manufacturer, you can do so through the NHTSA by f
illing out a form
. No, this isn't so you'll get it back if it's stolen, like a bike! Registering your car seat with the manufacturer ensures you'll be notified of any recalls of safety issues with the car seat. And trust me, recalls occur -- like the recent
Britax car seat recall
. I hope this helps. Car accidents are sadly common and often unavoidable, even if you're a very safe driver and you do everything right. That's why they're called accidents. Also, you can't control other drivers. Make sure you infant is properly secured in a safe, correct-installed car seat to reduce the risk of injury (or worse) while in the car.