October may be pink-washed, but it is also National Domestic Violence Awareness Month. Our local courthouse has actually been lit...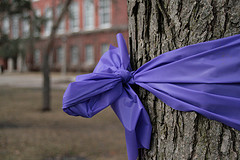 October may be pink-washed, but it is also
National Domestic Violence Awareness Month
. Our local courthouse has actually been lit by
purple
lights in the evening to bring light to the fact that domestic violence is too prevalent in our society and, more specifically our community. Sadly, pregnant women are at risk for domestic violence. Some of the things that might up the stress level in a pregnancy and put a woman at risk for domestic violence are:
an unplanned pregnancy
stress regarding finances (which is big right now)
a jealous partner who doesn't want your attention to be focused on a new baby
And other things may also trigger a violent act from a partner or spouse. While many couples have disagreements and arguments, emotional and physical abuse are
not
the common or normal reaction. I do remember having a few more disagreements with my husband when I was expecting our second son, but my husband never called me names, hit me or threatened me. Here are some signs that you might be living in an abusive relationship:
Does your partner always put you down and make me feel bad about yourself?
Has your partner hit, pushed or otherwise caused you harm?
Does your partner threaten you, your unborn baby, other members of your family or even him?
Does your partner tell you that it's YOUR fault that he hits you?
Is your partner getting increasingly more violent?
Has your partner promised to never hurt you again... but has?
These are all warning signs. Red flags, if you will. And
there are more
. If you answered yes to these questions, you might be in an unhealthy or abusive relationship. It would be in your best interest to reach out to someone you trust -- a friend, a parent, a counselor, a pastor. They can either help support you or lead you to someone who can help you get out of this dangerous relationship. If you don't think that you need help because you can handle the abuse,
read this startling fact
[pdf].
Domestic violence towards mothers during pregnancy significantly raises the risk of death for their children during the earliest stages of childhood
If you want to protect your child, now or after she is born, you need to seek help. It's not easy. But it's worth it in the end. Here are some resources for you to consider. Most websites on the topic of domestic violence have an "escape" button if someone is coming into the room where you are researching the topic. Also be sure to read about
Internet safety
when researching this topic.
SAFETY ALERT: If you are in danger, please call 911, your local hotline, or (in the U.S.) the National Domestic Violence Hotline: 1-800-799-7233 or TTY 1-800-787-3224.
Photo Credit: Crystl.