Let's talk about strollers. First, I'll tell you that hearing the word "stroller" causes my husband to hit the...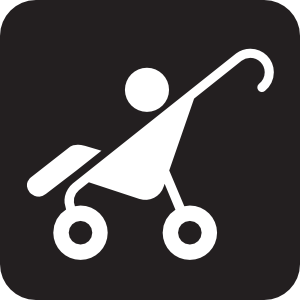 Let's talk about strollers. First, I'll tell you that hearing the word "stroller" causes my husband to hit the floor, assume the fetal position and break out into hives. Normally, I'd think he was being silly when he starts to twitch as I'm rambling about some sort of baby gear, but in this case, I have to give him a pass. Back when we were registering for baby gear, I hadn't researched strollers. No surprise -
I didn't adequately research anything
, a shameful admission from a law school grad who prided herself on her research abilities. Apparently, they didn't extend to baby equipment. While I didn't register for a stroller, at some point, before we became parents, I thought, "Time to buy one!" I really fell in love with Bugaboo strollers, but at the time, Diet Soda came shooting out my nose when I saw the price. So, I did the next best - or stupid - thing. I bought a stroller that *looked* like a Bugaboo, thinking it would surely *function* like a Bugaboo, too. Sadly, I was wrong. Very, very wrong. If I clipped more than a half-empty purse on the handle, it literally tipped over backward. With my son in it. It constantly had flat tires. It had no storage. The sun shade was non-existent. In short, it was a huge letdown. Next I decided I needed a jogging type stroller because I took up hiking the mountain (fine, I'll admit that it had a paved trail) near our house. I settled on a BOB Revolution, and while I really don't have a single complaint, the trail hiking didn't last. Too many rattle snakes, coiled up on the path, really curbed my enthusiasm for paved trail walking and turned me into a anxious, high strung mess who had nightmares about 15 foot rattle snakes striking my son. Don't bother to tell me rattle snakes aren't 15 feet...new moms are entitled to exaggerate. Somewhere in the middle of that, we started traveling across the country - very regularly - with our son. That, of course, meant we needed an umbrella stroller. Naturally, I hadn't learned much, so I went straight to the big baby store and bought one that looked okay and came in a cool shade of teal. I know. Don't even tell me. So, after my son and I took several mom-son trips (without dad) between DC and Arizona, I decided that it jut wasn't working. I bought a different umbrella-style stroller. At this point, our two-car garage no longer had room for one of our vehicles -- husband's, of course -- and it was looking more like a stroller grave yard than a place to house our transportation...at least the kind with an engine. Suffice it to say, by the time we adopted our daughter, I'd learned my lesson. I researched up and down, left and right, for the perfect double stroller. Then, I stalked the 'net for the best price possible. I ended up with a Valco Twin Tri-Mode that I still love, love, love, 18 months later. I like to torture hubby by reminding him that it can carry yet another little one with a simple, inexpensive addition. He likes to pretend he can't hear me. (*Note that there is a
recall on certain Valco models
.) We now live in an extremely walk-friendly, Southern California community and we choose walking over driving 80% of the time, so the fact that it is very heavy and beyond difficult to get in and out of my SUV is of no consequence. We keep it on our front patio and use it almost daily. I can load that handle with more groceries than I know what to do with, jam pack the storage bins with blankets and picnic food, and pull down the sun shades until my children are almost entirely covered. Hallelujah! Because, in my opinion, it's not a good stroller for traveling or for the car, I carefully chose a double umbrella-type stroller, a MacLaren double, that folds up super tiny (for a double) and that we keep in our vehicle and use for trips. If you're wondering what fate the multiple strollers before our current two suffered, I'll tell you that we sold one on Craig's, took two to a resale store, and donated the last two to Goodwill. Now that my son is in preschool, I'm afraid I'm back in the market for a single umbrella style stroller. Any suggestions?!
What has your stroller experience been? Did you carefully research your options and make a good decision? Did you go for it, like me, without thinking it through? What strollers have you really, really liked? Help other moms out...share you knowledge!