If you already have children, you know how important it is to ensure their diet is healthy and full...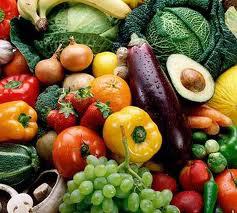 If you already have children, you know how important it is to ensure their diet is healthy and full of as many fruits and vegetables - in pureed form if your little one isn't on solids yet - as you can airplane or choo choo train into their mouths. As adults, we know that eating well is good for us, too. However, new research published in
 BJOG: An International Journal on Obstetrics and Gynecology
 shows that it's more than just good for Mom's body. It's good for future baby's health. The study showed that women who eat several servings of fruit and vegetables three months before conception, as well as during their pregnancies, have a lesser chance of delivering a baby who is undernourished or small for gestation age (SGA). So, how do you accomplish that? Well, if you love fruits and veggies, it's not that difficult. However, if you're not in the habit of eating them, or if one or the other (or both!) aren't a favorite, consider the following ideas. I'm not a veggie fan. At all. While I do enjoy a few - tomatoes, steamed asparagus, and spring mix lettuce, for example - I'd rather pass on a lot of them. I suck it up, though, both because they're good for me and I keep hoping that my children will eventually follow suit after seeing me eat them day in and day out. So far, not so good, but I'm not giving up! Because I don't love vegetables, it takes effort to eat them. I do, however, love salads and I've found that chopping raw veggies very small and tossing them with other tasty ingredients really helps-- sort of the same concept as hiding them in a toddler's food! I put other flavorful toppings on my salads, such as dried cranberries, avocado and cheese. Of course, make sure everything you're adding is safe for expectant moms, if you're already pregnant. As for fruit, I have a sweet tooth, so there's not much I don't like. However, if it's not your thing, dress is up a bit. If you're going to have a scoop of vanilla frozen yogurt, top it with a mix of berries. You can go healthy and add peanut butter to apple slices (a favorite of mine, even though I love plain apples), top a salad with orange slices, or add chopped grapes to chicken salad. If you haven't given a fruit smoothie with spinach a try, consider it. It might sound unappealing, but experimenting with the ingredients might yield a cool and filling drink that will pack several servings into one single glass.