I'm going to talk about something *really* important. Registering. Earth shattering stuff, right? But I know I'm not the...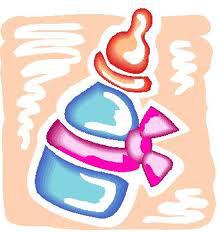 I'm going to talk about something *really* important. Registering. Earth shattering stuff, right? But I know I'm not the only mom who had registry woes. I had no idea what I was doing. My husband and I walked into Big Giant Baby Store -- you know which one I'm talking about -- and had to sit down for a minute to calm ourselves. That place is huge! When we were composed enough to take control of the little scanners, we began registering. For what? I'm still not entirely sure. We followed their guidelines. There are a LOT of items on that list! Two hours later, we walked across the parking lot for a drink. Or two. And a snack. Walking around that place for hours is more taxing than hitting the gym. (If you just read my post about how I wouldn't ever drink while pregnant, remember that we adopted!) After our short interlude, we went back and finished registering. I then stayed in bed for two days. The stress of it was just too much. Okay, maybe I didn't, but I sure felt like it. As it turns out, I had NO idea what I was doing. We received many of our registry items as gifts. Family and friends were incredibly kind and generous to us. And then, Big Giant Baby Store offered us a whopping 10% registry completion discount. Apparently both my husband and I have the word "Sucker!" stamped on our foreheads, because we did it: we completed our registry. And that's where we went wrong. Three shopping carts and a bank account that was a low four figures lighter, we thought we were ready. Ha! Our son came home many months later. I was able to return about a quarter of everything we'd bought - stuff that hadn't been opened - and the rest that we didn't use or that didn't work out, we donated or sold to resale stores. (I hadn't discovered the magic that is Craig's list back then.) I would say that in the end, we used and/or need
maybe
half of what we bought. What did I learn? Just because preparing for a new baby, as a first time parent, is overwhelming, it doesn't mean I should err on the side of caution and buy it all. More importantly? I should have carefully researched everything, asked friends, and read a book or online reviews. Manufacturers have made a lot of really great items that are super useful. And twice as many that are a total waste of money. Next week, I'll make a list of items I couldn't have lived without, as well as ones that were entirely unnecessary for us. Have you registered? Did it overwhelm you at all...or was that just me?! Did you carefully research and plan your registry, or did you go in blind with guns - er, scanners - blazing? And, most importantly, what did you learn once you had your baby?