One of the most important things you can do while pregnant is eat healthy meals and snacks. Your diet directly...
One of the most important things you can do while pregnant is eat healthy meals and snacks. Your diet directly affects your baby's health and growth while he's in your belly and your diet choices during pregnancy affect your baby's health even after he's born. With this in mind, along with the fact that March is
National Nutrition Month
, let's take a look at a sample healthy meal planner for pregnancy.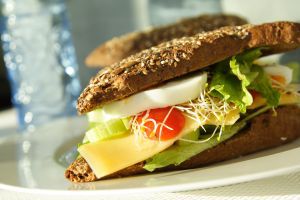 Before you start planning your meals....
1) Take a look at
healthy eating tips for pregnancy and beyond
. 2) Discuss your meal plans with your midwife or doctor. 3) Find out which specific nutrients and calories you should be eating according to your ideal
food pyramid
and
BMI
.
The ADA notes that a well-balanced diet for pregnant women includes...
Whole grains: Breads, cereals, pastas and brown rice.
Whole fruits: Apples, pears, peaches, nectarines and melon. Since acid can cause heartburn, you may want to be cautious with the amount of acidic fruit you eat, like oranges, pineapples, lemons and limes.
Vegetables: Leafy greens, bell peppers, eggplant, squash and mushrooms.
Lean protein from both plant-based and animal-based sources: Try tofu, nuts, seeds, lentils, beans, red meat, chicken, turkey, fish and pork.
Low-fat dairy: Milk, cheese and yogurt.
Healthful fats: Extra-virgin olive oil, walnuts, almonds and avocados.
Keep in mind that most women who are pregnant need only about 300 extra calories a day. You're eating for one + another wee person, not truly
eating for two
. If you're pregnant with multiples or overweight or underweight to begin with you may need more or fewer calories which is why discussing your meal plan with your actual health care provider is important.
With all the above in mind, following is a good sample meal plan for pregnancy...
note; each lunch and dinner below should include 1 cup
low-fat milk
. IF you hate milk (like I do) try adding some fat-free chocolate milk mix. Also see
how to get calcium if you're lactose intolerant
.
BREAKFAST
Choose one - An English muffin with tbs peanut butter; whole wheat toast with whole fruit jam; bowl of whole grain cereal.
Have one cup of low-fat fruit flavored yogurt or a glass of 1% or 2% milk.
Add 1/2 cup of fresh fruit like grapes or strawberries and 1 cup of orange juice.
I always have coffee in the morning - but during pregnancy you should have water or decaf tea or decaf coffee instead.
MID MORNING SNACK
Choose one of the following snacks...
One cup cranberry juice and an oz of pretzels or whole grain crackers.
Apple slices paired with small slices of cheddar cheese or dipped in a small cup of creamy peanut butter.
Sliced veggies, crackers and hummus dip. I like roasted red pepper hummus
Organic yogurt and some crackers.
A fresh fruit smoothie.
LUNCH -
One whole chicken salad sandwich (made with low-fat mayo, and red bell peppers, on whole wheat bread); six carrot sticks.
Tuna sandwich with light mayo, pickles, and chopped hard boiled eggs on whole grain bread. One cup of tomato juice and some vegetable sticks or slices.
Scrambled eggs with veggies (bell peppers, onions, broccoli, etc) and a dash of low-fat cheese. One whole grain English muffin and sliced fruit.
DINNER
4 ox lean turkey burger with tomatoes and lettuce on a whole wheat bun OR 4 oz turkey breast skinless and add 2 slices of Italian bread (with 2 tsp butter) to your meal. 1 cup rice; 1 1/2 cup salad (spinach and romaine lettuce, onions, tomatoes, carrots, mushrooms); 3/4 cup summer squash. If this is too much food for one meal you can switch some items to an afternoon snack or lunch.
Make veggie burritos — extra heavy on the salsa, bell peppers, carrots, mushrooms, and tomatoes. Add some brown rice and low-fat cheese along with some fresh fruit slices and you've got a great meal.
Create a salad meal - Adding extras like cold sweet peas, oranges, raspberries, or cut fresh green beans can power up your typical lettuce and carrots. Also lean sliced chicken or a tiny handful of nuts are good for protein. On the side have a small bowl of vegetable based soup or whole grain bread.
Spaghetti and lean turkey meatballs with tomato sauce plus a small tossed salad, one small slice of whole grain bread with garlic butter and 1/4 cantaloupe or other melon.
EVENING SNACK
1 cup low-fat chocolate milk and 3 oatmeal cookies.
Gingersnaps and a cup of juice.
Choose one guilt-free pregnancy treat.
OR any of the snacks seen above in the mid morning snack section.
THROUGHOUT THE DAY
You also need to drink
plenty of water
during the day. Make sure you're getting enough.