Happy New Year's Day mamas! I hope you had a safe and happy New Year's Eve, and that you're ready...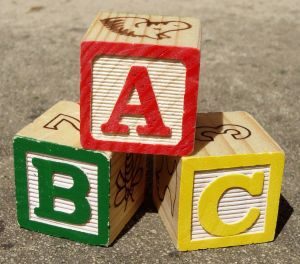 Happy New Year's Day mamas! I hope you had a safe and happy New Year's Eve, and that you're ready for the upcoming year. If you're expecting a baby, this will be the best year ever. To make sure you stay healthy, strong, and happy for the arrival of your little bundle, I thought we'd kick the year off with some great ABC-need-to-know pregnancy terms.
The ABC's of a healthy & happy pregnancy:
A
re you pregnant?: Know
the signs of pregnancy
so you can get early and important prenatal care.
B
reastfeeding: Early
breastfeeding planning
, as in during your pregnancy, makes you far more likely to experience great
breastfeeding success
.
C
lumsy lately?: Many pregnant women are, due to that new large belly.
Stay safe during your pregnancy
by avoiding falls and slips.
D
oula: Repeat after me, "A
birth doula
will make labor easier!" It's a fact; if you want the best labor and birth support then
hiring a birth doula
is something you should be thinking about right now.
E
co-pregnancy: Toxins can invade your body and affect your baby, even before he's born. Have a green pregnancy by
avoiding toxins
and planning an
eco-baby nursery
.
F
olic acid: All mamas need this
important vitamin
for a healthy baby.
Are you getting enough
?
G
ulp: That's the sound you should be making
all day long
during your pregnancy. Drink, drink, and then drink some more.
Staying hydrated
is ultra important.
H
ospital bag: Only take
what you need
.
I
ce cream: I had to include something fun! If you're not currently pregnant, but dreams of a wee babe are filling your head, then ice cream is a wonderful fertility treat to lick.
Learn more about this and other fertility foods
.
J
ob issues: Balancing work while pregnant can be difficult; read these helpful
employment and pregnancy tips
.
K
ick him to the curb: If your partner is being violent during your pregnancy, don't stand for it.
Violence during pregnancy
is a very real, very serious issue. Right now it's important to protect not only yourself, but your baby as well.
L
abor:
Have a rockin' labor
with these easy tips!
M
ama rights: You have many important mama rights during your labor and birth process -
make sure you know what they are
.
N
ames:
Find the perfect baby name stat
!
O
ral health:
Oral health
can affect your pregnancy in more ways than one.
P
ain in labor: You can deal with
labor pain
if you
have all the facts
and know what
your options
are ahead of time.
Q
- ok folks? Does any pregnancy term start with Q? I'm not so sure, and I'm not interested in wasting time searching so instead I'm going to offer a random, but useful read;
Seven point checklist for your first trimester
.
R
eal labor: Do you know what real labor might look like?
Find out
.
S
afety:
Infant and child CPR and first aid
is hands down the the most important pre-baby class you can take. Taking a good infant safety course allows you to feel confident and gives you the tools you need to prevent baby accidents, and to even save your baby's life in an emergency.
T
hrift:
Save money
and still score all the baby gear you need.
U
ltimate nutrition: Eat perfectly during pregnancy with this three-point plan...
V
eggies: Sneak
more veggies
into your pregnancy diet.
W
riting: All expecting mamas should do a little writing. Two important things to write down while you're pregnant include
your birth plan
and your dreams and thoughts in a
pregnancy journal
.
X
OXO: Yeah, I was hard up for an X term; BUT it is important to sneak in some extra kisses and
quality time
with your partner before your baby arrives.
Y
oga: The perfect low-fuss,
relaxing exercise
for mamas-to-be.
Z
oom to the library:
Snag the best pregnancy and baby books
. Yes I did cheat a little with "zoom" - seriously though, how many pregnancy issues start with Z???
Have a wonderful and healthy new year!