I love veggies and fruits so getting lots was no problem when I was pregnant. Of course I was a...
I love veggies and fruits so getting lots was no problem when I was pregnant. Of course
I was a vegetarian
, so it sort of goes without saying that I'd eat lots of the green and colorful stuff. However, I know some mamas aren't as keen on fruits and veggies, but you really need to pack them in when you're pregnant. Veggies and fruits contain
all sorts of healthy nutrients
you need to grow a happy healthy baby. Not to mention they fill you up, so you'll be less likely to snack on unhealthy treats that
pack on the pounds
.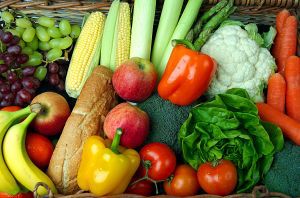 Following are some ways to sneak more produce into your diet.
Baked goods
: Yes you can have some baked goods. The bonus is that pancakes and muffins are perfectly suited to holding ripe berries and fresh bananas.
Cereal
: Top off your oatmeal and cold cereal with fresh fruit.
Smoothies!
: Go smoothies. Smoothies rock. One can be a whole meal. Mix low-fat yougurt, milk, fruit, and even veggies in the blender for super fast meals and snacks. Got no clue where to start; try one of the following:
Salsa
: Make sure it's fresh and chunky - i.e. packed with tomato goodness.
Top that tater:
Um, a potato is a veggie; sort of. Honestly, it's more starch, less veggie. However, you can top that tater with steamed broccoli, yellow summer squash, or carrots, plus a dollop of light cheese sauce.
Ditto for pasta
: Like a tater, you can top pasta with any veggie under the sun. With or without sauce it's a yummy meal. To make sure you get the right amount - take 1/2 cup of pasta, and then fill your plate the rest of the way with veggies.
Power up your salad
: A salad is a good start. NOT a meat and cheese salad; I'm talking veggies - lettuce, carrots, corn, beets, tomato, broccoli, and more. You can power it up by adding fruit. Add diced apples, sliced oranges, and berries to your salad, then drizzle with lemon juice. It's a fresher and healthier take than a ranch covered salad.
Tortillas
: Tuck lightly cooked veggies like red peppers, tomatoes, and squash into your bean and cheese burrito.