During your second trimester, your food requirements will change from your first trimester, but not drastically. The best deal about...
During your second trimester, your food requirements will change from
your first trimester
, but not drastically.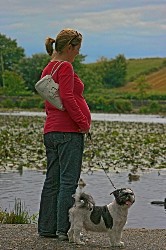 The best deal about your second trimester is that most women will be over their morning sickness bump - so if you had morning sickness, you should be feeling much better and more hungry. As your baby grows, you'll most likely feel hungrier than you ever did before you were pregnant. However,
eating for two is a big myth
. It's more like you're eating for you, plus a very tiny person. Just 300 extra calories per day are needed. It's not hard to pack on 300 calories, so choose the extra foods you eat carefully. Here are some tips:
Be sure to eat colorfully - choose a wide array of nutritious veggies and fruits each day and at every meal.
Each meal should consist of at least three different food groups. Read sample meal plan for pregnancy for ideas.
Eat smaller meals 5-6 times a day, to help you feel full all day long, without grabbing calorie laden snack foods. If you don't want this many small meals, eat a good breakfast, a normal sized lunch and dinner, and 2-3 healthy snacks.
Aim for a mix of lean protein, tons of produce, and complex carbs (like whole grains and legumes).
Allow treats. If you have a craving - give in. Just don't give in to each and every whim.
Now that you have your energy back, include healthy amounts of exercise each day. Be sure to discuss both your eating and exercise plan with your midwife or doctor.
For more help read: