Cedar as a baby was good at getting to sleep but would wake up throughout the night. That means I...
Cedar as a baby was good at getting to sleep but would wake up throughout the night. That means I woke up all night long as well.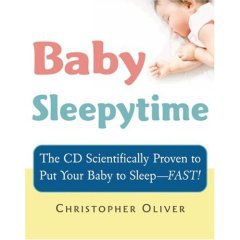 I recently received the new
Baby Sleepytime
CD and it's accompanying book by
Christopher Oliver
. The CD/book set claims to not only help your baby fall asleep but to help her fall asleep faster and stay asleep longer. Obviously, I remember the long nights during that first year as Cedar's mama and I thought it was worth a look.
What the CD and book are all about:
The information I received with the CD and book says that Baby Sleepytime is, "A breakthrough in sleep technology, employing independent binaural beat sound technology." It also states to be safe and a, "Scientifically effective way to calm your child." The CD is a tranquil mix of multiple tracks of ocean sounds from the Gulf of Mexico and sleep-inducing brain wave sounds.
"Christopher Oliver is America's foremost developer of motivational and meditational brainwave technologies. He is the creator of AV3x Digital Meditation Relaxation Technology, as well as a light and sound machine session designer for Photosonix and Mind Gear mind machines, video and music producer, recording artist, conceptual artist, designer, software architect and leading expert in mind machine technology."
There is a small chapter in the book about how exactly this CD technology (frequency following response) works. It's too long to explain here but you can read all about the basics of it at the Immrama Institute or at Intelegen Inc. This technology does exist and it is proven as a sleep aid by the way. However, if you're skeptical do a search because it's been written about extensively.
You do need to have stereo sound on your music system for the CD to work correctly and there's no need for headphones (bonus -- because what baby likes headphones).
What I think -- is this CD and book worth it?
I know a little about binaural tones and frequency following response from my hospital clinical days. I do not know enough however to make a guarantee that the CD will work for your baby. What I can tell you is that the CD was so soothing and nice to listen to that I almost fell asleep while listening -- the only reason I didn't pass out is likely because I turned it off so I could work.
I used to live on the north California coast, right on the beach (ocean outside my window and everything) and I miss the ocean sounds all the time. This CD made me feel like I was back in my little beach house. It was a great calming, waves semi-crashing sound but nothing extreme. Cedar (who is six now) liked it at night as well. I plan on giving the CD to my friend who does have a baby currently and seeing what she thinks because I'm betting it will work wonders for a baby.
I also liked the book that goes along with the CD. The idea is to read the nursery rhymes to your baby as the CD plays. The rhymes get a thumbs up from Cedar and me. They're all bedtime based such as Orkney Lullaby and The Man in the Moon. There are 14 sweet and sleepy rhymes with beautiful (simple) black and white pictures. The style of pictures is right on the tip of my tongue but it's very 19th-Century Victorian or Denslow style.
Another bonus is the list of doctor recommended sleep tips at the start of the book. Granted I had heard them all but not everyone is obsessed with babies like me so... it is a nice touch.
Cons:
The only thing I didn't love about the CD/book were all the guarantees plastered all over it. I do think this CD will likely work for many babies but I guess I'm not one for baby guarantees because I've known too many babies. Babies are finicky folk. Also, the book promises that it's guaranteed repeatedly but doesn't have a "how to get your money back" section. I looked and looked. If you're going to guarantee something to tired parents you should make the guarantee solid and easy to locate.
The final say is; get Baby Sleepytime:
Overall the pros far outweigh the one con so I'm going to recommend this CD and book. Both are extremely soothing and will most likely calm both you and your babe down and make bedtime easier. You can learn more about Baby Sleepytime and Christopher Oliver at Random House.