My last mama recommended product post got me thinking that it might be nice to see what even more mamas...
My last
mama recommended product
post got me thinking that it might be nice to see what even more mamas are using. I put out a call for recommendations to various groups of mamas I know about what baby items they can't live without and which they'd toss. In the last post we heard from my
best friend Sara
who says she adores her
baby safe feeder
. Today we're going to look at what a few other mamas think... starting with
Gayla
.
Gayla says she could not have managed without her North State Superyard XT Portable Playard & Gate.
WOW, that has got to be the longest name attached to a baby item ever. Still, long name or not it looks pretty useful especially if like Gayla you have twins. She notes:
"My two were IN TO everything - so much so it was impossible for me to umm powder my nose without worrying. When they saw and opportunity, they seized it! I bought two play yards and hooked them together. They went inside and outside with me. Gave the boys plenty of room so I didn't feel like I was jailing them. When I couldn't be right there with them for a few minutes, in the play yard they went."
Now, I've never been a huge fan of baby play yards myself for one of the reasons Gayla mentioned (the jailing of babes). I however did not have twins. I could see where this might come in exceptionally handy for mamas of multiples. Also this play yard is huge! Take a look: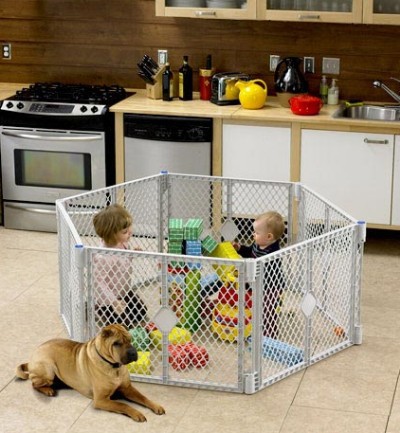 With all this space it hardly resembles baby jail. I also think this would be a useful item for parents who maybe haven't finished baby proofing yet. This play yard will keep your little one out of danger while you vacuum or make lunch. This play yard is extra tall and encloses 18.5 square feet. It has weather-resistant finish and come with a strap for easy portability. Thanks to Gayla for the recommendation! If you're looking for more parenting recommendations visit Gayla's cool mama-minded blogs;
Supernanny Rules
or
Mom Gadget.
Don't forget to enter Pregnancy & Baby's Little Monsters Contest — you can win fabulous prizes that will help you preserve your digital memories!