You may remember Stacey, a very cool guest we had here at Pregnancy & Baby who is rockin' mamahood to...
You may remember
Stacey
, a very cool guest we had here at Pregnancy & Baby who is rockin' mamahood to the extreme with a houseful of girls. We liked Stacey so much that we just knew we had to feature even more
mamas that rock
.
Today we have a wonderful guest mama here for a visit -- Susan Gunelius.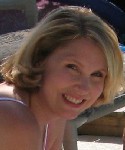 Susan is absolutely a mama who rocks and I'm so excited she's here because besides being a mama who rocks this parenthood deal she's also a talented writer and blogger and to top it off she's got keen business savvy. She also phototgraphs well like Stacey and unlike me :( Susan has a lot of unique tips to share so let's get this show on the road, starting with a quick personal bio.
Another reason I like Susan
; she writes her own bio so well that it's far less work for me! Here's what Susan has to say about her past and current career goals and how it's tied in with parenting.
"I spent over a decade managing marketing programs for some of the largest companies in the world including divisions of AT&T and HSBC. I've managed all aspects of branding, marketing campaigns and new product development initiatives, but my expertise lies in creative, production and copywriting. My corporate career was fast-paced, exciting and rewarding, but a few years ago, I left the corporate world to become a stay-at-home mother to triplets (yes, I said triplets). Now I work from home as a freelance writer, and I'm in the process of publishing two business nonfiction books which should be released in 2008."
Busy mama huh.
As noted above
Susan has triplets. A girl and two boys who turned three years old in July. I know that some of you who visit here are
expecting twins or more
and are very interested in how one handles not only one baby but two or more. We'll look at what Susan has to say about this in the next post or two. I also notice that some of you are wondering what it's like to make the switch from working outside of the home to being at home with your baby full-time so we'll talk about this as well. Stick around because Susan will be here all day and we'll be looking at topics such as breastfeeding multiples, Susan's very neat website for families, and more. You won't want to miss a word.
In the meantime, you can visit Susan at one or more of her great sites like Brandcurve and Marketing Blurb (seriously, you have to visit; she makes business topics a blast), or pop over to Disney Families & More (you know you love Disney).