Or to be exact the Hug of Joy. I recently heard from Joy Nolette the creator of the Hug Of...
Or to be exact the
Hug of Joy
. I recently heard from Joy Nolette the creator of the Hug Of Joy pouch baby carrier. Joy is a mama herself and owns the
Hug of Joy company
. You know we had to hear more since around here we do love a mama owned, mama run business.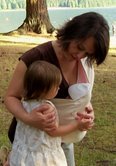 Here's what Joy herself has to say about Hug of Joy...
"When I had my new baby I tried several baby carriers and slings and many sore backs and frustrated baby days later Hug Of Joy was created. There's a lot of buzz out there about these carriers being comfortable, but it truly is amazingly comfortable. I've worn my one yr old for 12 hrs at the San Diego Zoo – she slept, nursed went on my back front side etc, and I really was comfortable. We still didn't see the whole zoo it's huge!! Hug Of Joy pouch baby carriers have no buckles, straps or ties. Remarkably comfortable - their unique stretch distributes baby's weight evenly. Worn in 9 positions from newborn until 30lbs. Hug Of Joy pouch - sling baby carriers are very unique because of the revolutionary fabric they are made of. You will feel pampered, wrapped in this carrier's elegant, silky stretch – it's the stretch that makes these carriers so comfortable and safe for both you and baby. Hug Of Joy carriers are designed to be lightweight, sleek and modern. Hypoallergenic: we understand how important it is to know your baby products are safe, and that baby's delicate skin is protected. Hug Of Joy baby carriers are made of fabric that is naturally hypoallergenic, non-toxic, non-allergenic, antibacterial, odor resistant, extremely cool, breathable, and certified by the Environmental Protection Agency. What gives this fabric the remarkable array of benefits? This revolutionary fabric is a new environmentally friendly fabric that is made of crab and shrimp shells. It is the crab and shrimp shells that gives this fabric its' natural benefits, including it's naturally non-toxic, hypoallergenic, and antibacterial properties. This fabric is the only fabric that is certified by the Environmental Protection Agency. Hug Of Joy fabric has also received approval by authorities in Britain, China, Japan, and Switzerland."
I visited the site and the
Hug of Joy
indeed looks like a great product and Joy is also a pleasure to talk with (bonus). In my opinion, every mama needs a great baby carrier. Remember; I always say, a held baby is a happy baby. So if you'd like to learn more stop by Joy's
website shop
and see what you think.