Recently there's been a lot of anxiety about lead in baby and child products. Consumer Reports and some other agencies...
Recently there's been a lot of anxiety about lead in baby and child products.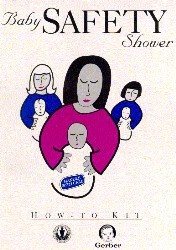 Consumer Reports and some other agencies like the
U.S. Consumer Product Safety Commission
(CPSC) provide valuable information regarding lead and your baby and older children and in the next post we'll talk about that. Since this is such a critical issue I thought I'd take the weekend and cover baby safety concerning lead and a few other home hazards. To get us started I thought I'd mention a few of the best ways to stay on top of recalls and safety alerts that affect your little ones. I try to mention when I see something that is important to mama and baby health but I can't be on top of it 100% of the time. Plus there are a lot of recalls. You could have an entire blog all about recalls and still miss something important. Thus you as a parent need to take the time to stay current on what's new in the world of safety. Luckily there are some organizations that make it easier.
Sign up for free email or RSS feed alerts at CPSC. You'll get recall info taylored to your home's needs delivered right to your email or feed.
Sign up for general government email alerts and or feeds on various important consumer topics.
Visit Consumer Reports safety blog that lists important consumer information. They are also huge family advocates for safe products. In fact, parenting magazines are great but if you can only afford one magazine a year I suggest Consumer Reports above others just for the sheer amount of useful baby and kid safety info they provide. Plus they make it easy by allowing you to subscribe to the online or print version. I get the online version to cut down on paper waste.
Your baby's safety is a high priority and this is an important issue to discuss so stick around because I'll be bringing on the safety all weekend.
What safety topics are concerning you right now?