Who says you can't start the day with candy! I'm sure not going to stop you (or me). The...
Who says you can't start the day with candy! I'm sure not going to stop you (or me).
The last few days have been mostly serious around the
Pregnancy & Baby blog
. We've discussed
folic acid
,
preeclampsia
,
optimistic parenting
,
breech births
and more. We did have the
adorable twin outfits
but my brain's starting to spin from all the think-heavy topics. Great information to know, but I'd say it's break time. Today let's look at some neat items that you must have during pregnancy and some other items that will make life with baby easier and more fun. Sound like a plan? Whew, I knew you'd say yes.
As promised candy for breakfast.

Three Lollies
has some candy pops that will actually help you to feel oh so much better during pregnancy.
Preggie Pops
, which you may have heard of before, are lolly pops made especially for pregnant mamas. These are all natural pops made to help ease the morning sickness that often accompanies pregnancy. The pops are also great for labor because they alleivate dry mouth and provide you with some calories for added energy. Preggie Pops are completely drug free; using instead a special combination of aromatherapy and essential oils. Also, they're health care provider recommended.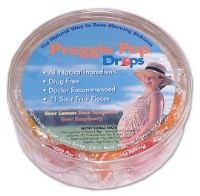 Preggie Pops rock. But you know the downside? How you look during a company board meeting when you're munching on a lolly. The new solution to that are
Preggie Pop Drops
. These are very slick because they pack the same queasy easing help that the pops have into a drop, that's no more noticeable than a cough drop. You can check out the large variety of flavors at
Three Lollies
: There's ginger, green tea, mixed sour fruits, green apple, mint and mixed bags so you can try them all.
Morning sickness will never be a party you want to attend but now you have at least one good excuse to have candy for breakfast!