There are many different pumps on the market. The trick is to find one that fits your personal needs. Pumping...
There are many different pumps on the market. The trick is to find one that fits your personal needs.
Pumping for the long haul
: Electric is the only way to go. Electric will cost you anywhere from $200 - $300 typically but it's worth it if you pump often. I didn't pump that often, and I was still so glad that I invested in a great breast pump. One pump that
La Leche League
recommends is the
Medela Classic
. (seen in picture to right)
From the Tiny Tots website, this Medela "pump features physiological Autocycleâ"¢ action, which simulates a baby's natural sucking pattern. The adjustable vacuum protects mothers from excessive or prolonged suction.
Can be used for single or double pumping with Medela's Universal Pumping System accessory kit. Simultaneously double pumping both breasts cuts pumping time in half, and can help increase your milk-producing hormone. The kit that is pictured with the pump is sold separately."
Nice Medela electric pumps can cost anywhere from $200.00 upwards.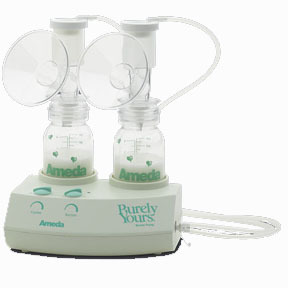 The pump I had was the Ameda Purely Yours. A little less fancy than the Medela Classic but still electric and enough pump to get the job done.
Typically this pump runs around $200.00. However, I bought mine through Baby Love, who have now changed their name to Kidalog, a Canadian shop.
Six years ago the exchange rate saved me a ton of money My pump cost me around $160.00. That's a huge deal. So it's something you might want to consider.
Don't need to pump all the time? Let's look at some different options.
If you're only going to be pumping occasionally, than
La Leche League
recommends the
Medela SpringExpress Manual Breastpump
. I don't have personal experience with any manual pump; unless you count hands (which I'll get to in a minute). However, if LLL recommends it I'm thinking it's a winner in the manual pump arena.

Manual pumps do not have the same quick and strong pump action that an electric does, but you save a bundle cost wise (about $160).
This Medela manual
costs about $35.00. Still, cost should not be a factor in your decision. How much you pump should be the main deciding factor. If you can't afford an electric breast pump outright, many hospitals rent them for a monthly fee.
La Leche League
can help you find more resources for low cost breast pumps.
One more tip
, if you only need to pump very occasionally you can simply express milk using tools you already have -- your hands. If you've never expressed milk manually this way before
it's very simple
.
Read this easy guide
to get started. Now, which kind of pump are you considering... Or maybe you don't want a pump at all.
Tell me about your pumping decision.