The stunning gowns you see here are made specifically for expecting brides -- which, in my opinion, just means a...
The stunning gowns you see here are made specifically for expecting brides -- which, in my opinion, just means a little more gown to love.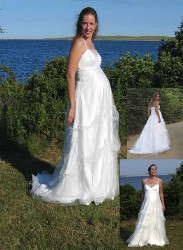 Jessica Iverson, owner of
Maternity Bride
was kind enough to send me her thoughts about what makes her maternity wedding gown company a success and some insider information about why choosing a maternity wedding gowns is such a special event. Jessica started her company because she herself was a pregnant bride, and knows first-hand what a special time it is and how hard it can be to find that perfect gown within a budget. She says:
"When we opened, I received an overwhelmingly positive response from expecting brides, mother's of expecting brides, the press, and others who couldn't believe that after all these years the need for Maternity Wedding Dresses hadn't been properly addressed."
On finding that perfect dress
Jessica notes that "It is typically the norm in the bridal industry to pay thousands of dollars on average for a gown, wait at least 12 weeks for delivery, with exchanges not being permitted under any circumstances." That's not how it works at her company. Keep reading to learn more about Maternity Bride and to see more gorgeous gowns!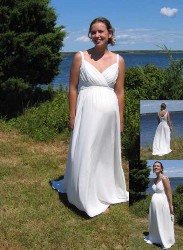 Jessica and her team go out of their way to make each bride feel comfortable and happy with their choice; and at Maternity Bride there are many choices and options. Jessica says, "These options evolved due to working with brides who are pregnant, and understanding their needs having been a pregnant bride myself."
"Each year, we offer a new collection of gowns which we can deliver in as little as two days for brides who are really in a rush.
For those who want something unique, we offer custom designed styles, made to a bride's particular needs and desires.
For the bride who can't make up her mind, our stocked styles are exchangeable -- and for the bride on a budget, we offer a rental program in which brides can rent a gown for a fraction of the regular price."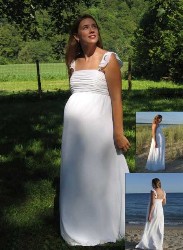 Jessica points out that the taboo of a wedding while pregnant has all but disappeared.
"Now more than ever, women who are both pregnant and engaged have many options, support, and guidance for finding the perfect gown. Some couples get engaged first and in the midst of planning for the wedding find- often to their surprise -- they have two celebrations on the calendar!" And for many, the baby comes first,
then
the idea of marriage kicks in. As a maternity wedding gown designer, I hear both stories frequently. Times have changed very much in only the last few years for the pregnant bride." Maternity Bride has recently been
featured in articles
by CBS and the Columbia News Service. Jessica's company and gowns are soon to be featured in an up-coming fashion spread for
Brides Magazine
-- exciting! Check in with
Maternity Bride
for details and to learn how you can find the perfect dress for your once-in-a-lifetime day. For more great tips about how to get wedding-ready, check out
this SheKnows article
.
All the lovely gown photos are courtesy of Jessica Iverson. (Thank you)!