I hope everyone had a wonderful and safe July 4th. It's nice to load up on fun in the middle...
I hope everyone had a wonderful and safe July 4th. It's nice to load up on fun in the middle of the week. But now onward -- to an important topic for working mamas.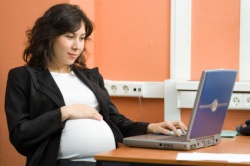 Well, all mamas are technically "working mamas," but this topic is for those of you who work outside of the home -- or "for the man."
Many pregnant women worry about pregnancy discrimination at work. This isn't a petty worry either. Last year 4,901 case of pregnancy discrimination were filed with The U.S. Equal Employment Opportunity Commission.
Many more acts of pregnancy discrimination each year go unreported or are dealt with quietly through union or company channels. Discrimination can include issues like reduced responsibilities, inappropriate comments, and job loss. What can you do at work to cut down on your chances of pregnancy discrimination?
Know your rights under The Family and Medical Leave Act (FMLA). Brush up on the national and local laws before ever announcing your pregnancy.
Know your rights under your company policy. Find out about your time off and whether you'll receive pay, either through your company or disability. Which by the way, some companies will pay you during your time off with disability. However, don't let the terminology throw you off balance and lower your confidence. Pregnancy is not a disability by any means. Smart mamas know this, but the powers-that-be need to catch up.
Time your announcement appropriately. According to various research, the end of your first trimester is the best time to break the happy news. Why? Most think it's because risk of miscarriage has passed and you feel confident.
When you do break the news, tell your boss first. Your boss should hear this from you, not your co-workers.
Discuss options for coming back to work with your boss before the third trimester. This will vary depending on your position and company. Some mamas come back full-time some try flex time or a different position. Some mamas (like me) change their minds. I was set to return to a social work position but when I saw Cedar's little face I knew I had to rearrange my working life so that I could stay home with him. It's perfectly normal to change your mind (even daily).
To learn all about your pregnancy rights at work, visit The U.S Department of Labor.