The experts have spoken: Pregnant mamas need to both wear seat belts and leave the air bag switch on --...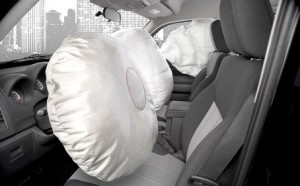 The experts have spoken:
Pregnant mamas need to both
wear seat belts
and
leave the air bag switch on -- that's because the two systems work together to protect both you and your unborn baby in the event of a crash. But because deployed air bags have been proven very dangerous to babies and kids --
which is why you never ever put a carseat in the front seat
-- there's been concern that airbags might also injure unborn children, noted University of Washington researchers. The Washington study (reported in 
Obstetrics & Gynecology
during December 2009) found, however, "that pregnant occupants of motor vehicles with air bags were not at increased risk for pregnancy complications," such as cesarean delivery, fetal distress and/or pre-term birth, said Dr Melissa Schiff, lead author and professor of epidemiology at the UW School of Public Health and a researcher at the Harborview Injury Prevention and Research Center.
The best odds
The NHTSA wants to remind one and all that air bags are
designed to work
with
seat belts
, not replace them. Without a seat belt, you can be thrown into a rapidly-opening air bag, and a movement of such force could injure either or both of you -- or even be deadly. "Since we know that an air bag deployed in a serious car crash can save your life, it would be unwise to avoid air bags and a theoretical risk of a minor complication," said Nathan S Fox, MD, a board-certified Obstetrician/Gynecologist and an Assistant Clinical Professor at both Mount Sinai School of Medicine and New York University School of Medicine. So even if there is a tiny degree of risk, it's better than the alternative, right? Dr Fox says yes. "Since we know that flying through a windshield is bad for both the mother and the baby, I would encourage people to have air bags."
Find out more
How to wear a seatbelt during pregnancy
Car seat safety facts and state laws
Top 10 car seat safety tips
New guidelines for preterm baby car seats