Record Your Maternity Months
With all the preparations you're making before your baby arrives, it's easy to dismiss the idea of keeping a maternity journal. But, once you check out these five reasons to keep a pregnancy journal from pregnancy notebook author Geralyn Broder Murray, you'll be happy you put pen to paper during the last nine months you have to yourself!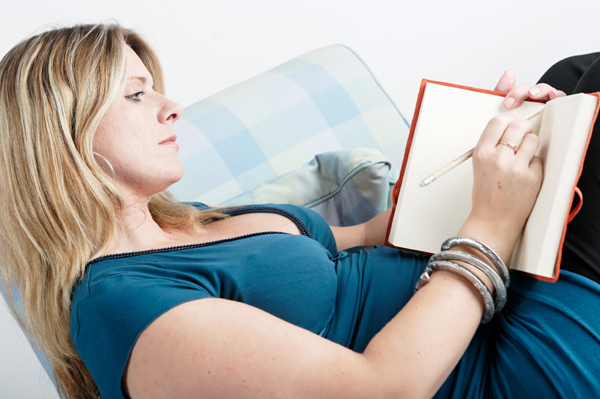 Baby brain
"The moment your baby is born, you will only remember about three things from your pregnancy and two of them will be heartburn," quips writer and author of pregnancy journal Pea to Pumpkin www.peatopumpkin.com Geralyn Broder Murray. While some aspects of pregnancy you may wish you'll soon forget, your months of pregnancy can be quickly forgotten once your bundle of joy arrives, which believe it or not, you will look back fondly upon, even if it's not for 25 years from now.
Postpartum body booster
Whether your body snaps right back or you struggle to shed the baby weight, chances are that your ego may need a little pep talk when it comes to your postpartum body. Although the elation your newborn brings can last you a lifetime, "Your journal will be proof that your body is capable of amazing feats," suggests Murray.
Prenatal bonding time
It's never too early to bond with your bun in the oven, and keeping a pregnancy notebook can help keep you connected to the little life growing inside of you. Murray reminds you that, "this is the only time that it will just be you and your baby — the two of you, your first, nine-month long 'mommy and me' date." Your maternity journal is your first chance to get acquainted with your pea in the pod.
Parenthood turns you into a sap
Even when you don't consider yourself the sentimental type, there's something about having a baby that turns your insides to gelatin. "Before there is a first step, there is a first kick. Or fifty of them, reflects Murray. "Record how those sweet little feet once practiced for the future." Once your youngster is heading off to college — or high school, or preschool — you'll weepily wonder where the time went and find gratitude that you kept a maternity journal.
Pregnancy is a rite of passage that deserves documentation
Every chapter of your life changes you forever, which is especially true for your prenatal months. "Pregnancy is the beginning of the most exhausting, joyful time of your life. It's a great journey; it deserves a great journal," assures Murray. Taking a little time now to detail your pregnancy experiences will pay off long into the future.
Still on the fence despite these five reasons to keep a pregnancy journal? In a survey conducted by Hologic, the Women's Health Company, 35 percent of moms who did not keep a maternity journal said they wish they had done so after the fact. So, before you're filled with regret — and a lot less time to yourself — pick up a pregnancy notebook and start jotting these precious moments before your bundle of joy arrives!
More pregnancy tips
Body changes you can blame on pregnancy hormones
How many extra calories needed when pregnant?
Am I in labor? 6 Signs labor is starting