Pregnant while your spouse is away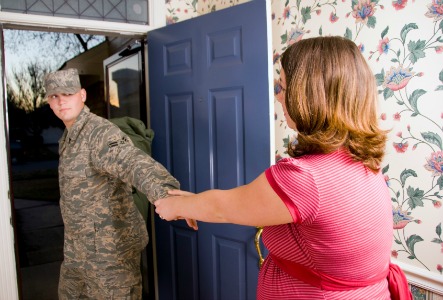 Ladies, let's be candid for a second here. Pregnancy is hard. It is long and lonely and annoying and hot and uncomfortable. It's an emotional roller coaster. I cried during commercials on a regular basis when I was pregnant with my son.
You aren't alone
On top of all that emotional turbulence, having your support system thrown into a dangerous environment halfway across the world is just short of impossible to handle. But just short of impossible is still possible.
There are a few important things to remember about dealing with pregnancy during a deployment that make the hard days a little brighter.
Remember, you are not a single mother
While yes, there are days when you wake up and feel alone, your partner is still there for you. He or she may not be able to physically be there or be able to pick up your phone calls one hundred percent of the time, but that doesn't change the fact that you are not in this alone. Make sure to surround yourself with positive people who can ease the pain of not having your spouse or significant other with you.
Take some well-deserved "me time"
Being a mom is a hard job, and doing it while your partner is in constant danger halfway across the world and not able to talk to you only adds more worrying. Therefore, make sure to take the time you need to stay sane. The No. 1 problem moms and military spouses have is putting up with people who cause stress in their lives. There's no rule that says you need to put up with them! You can politely excuse yourself from friends who are stressing you out and set boundaries for parents or other overly nosy relatives.
Document milestones for your loved one
"Your spouse is just as sad about missing the pregnancy milestones as you are about having to pass them alone."
Your spouse is just as sad about missing the pregnancy milestones as you are about having to pass them alone. Make sure to document these happy times so you can share them once you're reunited. I would recommend taking lots of pictures. There is nothing more fun than watching your tummy slowly expand over time to support the tiny human growing inside, and you want every day to be captured for your significant other. Of course, ultrasound pictures are a no-brainer. They provide an easy way to show your spouse exactly what is going on with you and the baby-to-be.
Take notes at your doctor appointments
You will learn an incredible amount of information at your doctor's appointments. Take a friend and a pad of paper. This will help you remember the instructions the doctor gives you, the questions you have, the answers that the doctor gives you, and much more. Plus, it's fun to be able to tell your partner that the baby has fingers now and weighs about this much.
Seek out support
Make sure to take advantage of the networks of friends and family that you do have close by while your spouse is away. Reach out to the other moms in your unit; they will have a better understanding of the thoughts that are running through your mind. When you're feeling vulnerable, don't feel like you have to grapple with your feelings by yourself.
If you need a little more support or are looking to meet new people, there are many organizations out there. Operation Shower throws baby showers for the military spouses of deployed military service members, and the Army has a program specifically for first-time parents called the New Parent Support Program. Military installations have their own individual programs as well.
Create a birth plan
If you plan to have your husband home by the time you give birth, you should create a birth plan together that allows you to share this exciting moment. If your partner won't be back by then, you need a contingency plan. (It's good to have one, even if you plan to be reunited — even the best-laid plans can be changed, as military spouses know well!) Designate a friend or family member to watch your house and/or your other kids; in addition, pick someone who can drive you to the hospital and be with you for support as you are going through the birth. I even know military spouses who were able to Skype with their husbands during, or right after, the baby's birth — but you need to plan for that, too! Also, it's very important to have emergency medical documents squared away; medical personnel need to know how to deal with complications if they should arise.
In the end, don't let the absence of your spouse take away from the joy that comes with pregnancy. It is an exciting event, and you want to make sure that you take the time you need to prepare for your new child to come into the world. When your spouse returns, you can relive the pregnancy — and enjoy the fruit of your labors (both literal and figurative)!
Adrienne May is a military spouse. Her husband is an Army soldier and is now serving in the Army National Guard. Together, they have three children, from preschool to pre-teen. Adrienne regularly blogs for Military Spouse Central and Military Family Central. Follow Adrienne on Google +.
More pregnancy tips
Dealing with mixed emotions during pregnancy
How to get the vitamins you need
Fun ways to celebrate conception