Recipes For Non-Alcoholic Drinks To Enjoy During Pregnancy
Just because you're with child doesn't mean you have to be without some fun! Once your energy is up and you want to hit the social scene (or just treat yourself at home) go beyond the Shirley Temples and Roy Rogers. Reach for a mocktail! Check out our yummy non-alcoholic drink recipes.
Michelle Bruns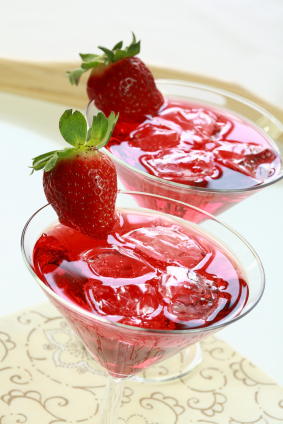 Mocktails are drink recopies beyond the "virgin" versions of the real thing. With a supply of juices, sparkling water or soda, and some fruit garnishes on hand, any time of day is a good time for a mocktail. Mix up your own invention, or try some of the recipes here.
Apricot Gingerini
2 1/2 oz white grape juice
3 oz apricot nectar
1 oz ginger-infused simple syrup
1/4 tsp ground clove
Pour first three ingredients and most of the ground clove into a mixing glass fill with ice. Shake vigorously and strain into a martini glass. Garnish with the remaining ground clove and enjoy!
Baby Bellini
2 oz peach nectar
Chilled sparkling cider
Fresh raspberry for garnish, if desired
Pour the peach nectar into a Champagne flute. Slowly add the sparkling cider and float raspberry and serve.
Momosa
5 oz orange juice
5 oz ginger ale
1 dash mango nectar
1 mandarin orange piece
Pour orange juice and ginger ale in equal parts into a chilled hi-ball glass. Add mango nectar and stir. Garnish with speared mandarin piece, and serve.
Cinderella
1 oz lemon juice
1 oz orange juice
1 oz pineapple juice
2 oz ginger ale
Dash of grenadine
Pineapple slice for garnish
Pour the juices into a cocktail shaker with ice cubes and shake well. Then strain into a chilled collins glass filled with ice. Garnish with fruit slice and share with your favorite mom-to-be.
Coconut Key Lime Momtini
3 oz limeade
1 oz coconut milk
1/2 tsp powdered sugar
1 oz Key Lime juice
2-3 drops vanilla extract (optional)
1 tsp coconut flakes
Shake limeade, coconut milk, powdered sugar, key lime juice, and vanilla extract with ice. Next, strain into a martini glass. Finally, garnish with coconut flakes and sip.
Designated Appletini 
2 oz apple juice
1/2 oz simple syrup
1/4 oz lemon juice
Granulated sugar or melted caramel for rim
Apple slice for garnish
Add apple juice, simple syrup and lemon juice to a cocktail shaker filled with ice and shake well. Strain into a rimmed, chilled cocktail glass. For fun, float an apple slice in drink and serve.
Green Grape Glacier 
12 seedless green grapes
4 oz white grape juice
4 oz sparkling water
Freeze the grapes. When frozen solid, reserve 2 frozen grapes for garnish. Combine remaining frozen grapes and grape juice in a blender and process until smooth and thick. Pour the grape mix into a highball glass and add the sparkling water and stir gently. Before serving, garnish with the remaining frozen grapes.
Hot Not Toddy 
7 oz hot tea
1 Tbsp honey
1 tsp lemon juice
Grated cinnamon
Ground cloves
Grated nutmeg
Lemon wedge for garnish
In an Irish coffee glass pour the honey, lemon and spices. Top with hot, brewed tea and stir. Garnish with lemon wedge and put your feet up. You've earned it!
Preggie Provençe
5 rosemary leaves
3 white grapes, halved
1/2 oz simple syrup
1/4 tsp fresh lavender flower petals
1/2 tsp grated lemon peel
2 oz lemonade
3 oz lavender soda
1 lemon wheel
1 sprig rosemary
Muddle rosemary leaves with the cut grapes, simple syrup, lavender flower petals, and grated lemon peel in the bottom of a mixing glass. Add lemonade and shake well with ice before straining into a cocktail glass. Top with lavender soda. Garnish with a lemon wheel and sprig of rosemary and enjoy!
Mock Champagne with ice ring
2 (2 liter) bottles ginger ale, chilled
1 (46 fluid ounce) can pineapple juice, chilled
1 (64 fluid ounce) bottle white grape juice, chilled
To make ice ring, fill a bunt pan half way with ginger ale. Freeze until partially frozen and pieces of fruit around the ring. Fill remaining pan with ginger ale and freeze until solid.
While the ice ring is freezing, in a large punch bowl, combine 1 bottle ginger ale, pineapple juice and white grape juice. Place frozen ring in punch bowl just before serving.
Virgin Mary 
3 oz tomato juice
1/2 oz lemon juice
1 dash of Worcestershire sauce
Celery salt to taste
Ground pepper to taste
Hot pepper sauce
Celery stalk for garnish
Pickled asparagus and green olives for garnish (optional)
Add liquid ingredients into a highball glass over ice cubes. Mix well and add seasonings, adjusting according to your pregger preference. Garnish with celery stalk and other optional garnish, if desired. Practically a meal in a glass (or a fun snack at least)!
Mocktails aren't just for mommy-to-bes! Great for baby showers, or even after you're holding your bundle of joy in your arms and want to be the designated driver for the evening, ask the bartender to mix you up your favorite faux cocktail!
Read More: