You're just positively glowing!" It's a compliment we all love to hear, and it's one often heard by both brides and pregnant women alike. Whether you're a pregnant bride or a pregnant bridesmaid, this upcoming wedding is your time to shine.
Sharon Naylor
No need to hide your gloriously protruding belly, and there's definitely no need to hide how fabulous your breasts look right now. We've come a long way from the days when pregnant brides accepted a quiet, civil ceremony so that no one could see "her condition," and we're thankfully done with bridesmaids stepping out of the bridal party so as not to be "the pregnant one."
From what to wear to feeling great all day (and night) long, here are the top tips for when you're pregnant at the wedding:
What to wear
The challenge is finding, ordering and fitting a dress that's going to suit you several months from now when you have no idea the dimensions your body will take. Eliminate the guesswork (and the stress) by selecting a gown with an empire waist. That is, the waist begins right below the bustline and hangs straight from there. Think Gwyneth Paltrow in Shakespeare in Love or in Emma. Done well, this gown cut looks amazing and romantic.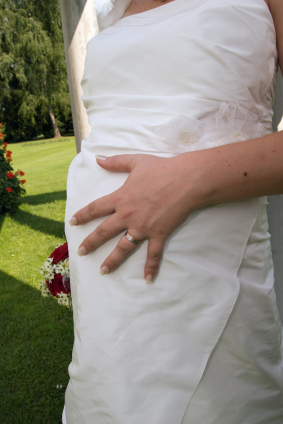 Designers are styling dresses with pregnant tummies in mind. You will find maternity gowns and formal dresses cut to suit your body, with wonderful tie tabs in the back that you can use to pull in your waistline as desired for the perfect silhouette.
You can request extra panels sewn in to a dress, or a stretchy panel that allows for a flattering, more snug fit at the waist.
Stay away from extra ruffles, bows and accents on your gown (like that oversized butt bow that makes any gown look like a 1980s prom dress). Stick with a more classic, streamlined look. All of the bridesmaids look better in fewer adornments, and you're no exception.
Not finding anything flattering at the bridal gown salon? Then look to maternity formalwear, those fabulous dresses celebrity moms-to-be are wearing on the red carpet. Designers are now showing gorgeous, stylish collections that make maternity fashion enviable. Just choose a fabric and color similar to the other bridesmaids' dresses (if you're a bridesmaid, that is) and you'll coordinate beautifully. If you're the bride, lucky you! You get your choice of designer-type fashions that flatter your figure best.
Don't try to cover up!
A great gown designer can take one look at your fabulous form and style a bodice and front panels that show off your tummy with beading, a great cut, support and fabrics that shimmer and shine.
Don't forget your best features! If your shoulders and arms are much-envied among your friends, try a halter top to your dress. Talk with your gown stylist about playing up your best assets.
Your top priority needs to be comfort
Select a gown fabric that breathes, eliminate itchy lace sections and definitely don't try to squeeze yourself into a too-small gown to try to look slimmer on the big day. With the help of an expert seamstress on a date close to the wedding, you'll look fantastic with the perfect fit of your gown.
Can you wear white?
Forget about the old rules. Now, all brides have the option of wearing colored gowns, off-white gowns or white gowns.
Get great undergarments. This is a key step for any bride or bridesmaid, pregnant or not, to achieve the best look in her gown. From the right bra with terrific support to well-fitting hose to no-panty-line panties, sometimes it's what's under the gown that makes it look the best.
Oh, your aching feet
You're going to be on your feet all day long, and most of the night too. Choose shoes that not only look fantastic, but feel terrific. Choose a low heel height for your comfort and for your safety.
Thicker, chunkier heels will help you walk more comfortably on grassy areas. Your heels won't sink into the ground, and in a safety sense they'll better protect your ankles while you walk or take the stairs.
With pregnancy, your feet may swell, so don't order or buy your wedding day shoes too early. Shop for them just before the wedding.
Buy two pairs!
If you know your feet and their swelling propensities, you might opt to do as so many other pregnant brides and bridesmaids have done: buy a pair in your normal size (say, a 6) and then a second pair in a half-size larger (6 1/2) for a switch later in the day. Or buy a pair of comfy shoes for later in the reception. From skimmers to sandals to bridal thongs, brides have been slipping into something a little bit more comfortable for years.
Take a seat
Very pregnant brides or bridesmaids might arrange to be seated during the ceremony, especially if the ceremony is scheduled to last more than an hour. It's up to the bride and groom whether they'd like to have the entire bridal party seated as a matter of uniform look. (Everyone in the lineup might thank you as well!)
Of course, be sure to take some time during the wedding day and night to sit, catch your breath and relax. No need to push yourself to keep up with all the dancing others every minute of the reception.
What's in your Champagne flute?
Of course, you know that drinking alcohol is bad for the baby, so keep your Champagne glass filled with healthy and hydrating drinks, nonalcoholic choices or a refreshing water with a slice of lemon or lime. "Virgin" drinks like a frozen daiquiri with no liquor are just fine and festive too. On a hot wedding day, drink plenty of water to stay hydrated.
What's on your plate?
Did you know that some foods often served at weddings can be horrifically bad for your health and the baby's? Talk to your doctor about making healthy food choices and learn the warnings about such options as raw seafood, soft cheeses, Caesar salads (made with raw egg) and some nut products.
Be extra careful with foods that have been sitting out for a while. If the shrimp or those deviled eggs, cream cheese spreads or fillings have not been refrigerated well, served on ice or otherwise chilled in the last few hours, stay away from them.
Still at the nauseous stage of your pregnancy? You can ask the manager to supply some of the foods you know you can handle, like saltines, frozen yogurt and other "safe" choices. Special requests are perfectly fine.
Smile for the camera
Rather than hide from the camera, smile for it! Sure, you don't look like you did last year, but you look amazing now! Be sure to join in on group photos, and have a few taken of only yourself as a radiant keepsake of this wonderful time in your life.