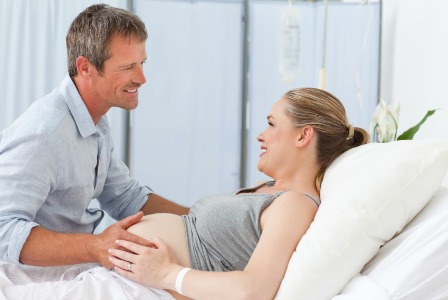 Sure, you'll be the one having contractions, needing your partner for support during labor and birth. But partners need support, too! This checklist will help yours stay comfortable, informed and able to help you on the big day.
Partners need
support, too
A bag filled with labor tools for mom? Check. A bag for baby with diapers and the cutest coming home outfit ever? Check.

What about a checklist for partners?
I've been a childbirth educator and doula for 14 years, and know that birth partners — whether it's dad or anyone else you'll be inviting to the labor and delivery room — need checklists, too. Here are some tried and true items for your partner's list — many are practical, some just for fun!
Checklist basics
Directions — Sounds like a no-brainer? Try waking up in the middle of the night, anxious and excited that mom's in labor and forgetting the best route to the hospital. On that note, find out if there are alternate entrances to use during different parts of the day.
Important phone numbers — Find out in advance if there's a special number to call the doctor or midwife if mom is in labor after regular office hours. Save the texting and emailing for after the baby is born — for example, if you text the doula that mom's in labor and it happens to be the one time cell phone service is spotty, she could miss the big day. For the doctor or midwife, including any after-hours numbers or instructions.
Chargers for electronics — Whether you plan to tweet every moment of your labor or just want to be able to call or email the masses once baby arrives, you don't want your phone, tablet or computer to lose its juice. Pack any and all chargers just in case.
Childbirth class notes — Bring along any notes, workbooks or diagrams of labor positions and comfort measures given during class — you never know when mom will need them.
Just for partners
Layered clothing — you never know when mom is going to get really hot and beg for the air conditioner to be turned on, or so cold she needs an extra blanket. If you're uncomfortable, it can be miserable for both of you. Be sure to pack a sweatshirt, long or short pants depending on what you wear to the hospital. Toss a bathing suit in your bag, too, in case mom needs extra support in the tub or shower.
Food — Sure, the hospital may have a 24/7 cafeteria, but you should still pack a snack or two. If you're starving but mom doesn't want you to leave her, you can take a few bites in between contractions. Please don't pack anything pungent like a tuna sandwich or pizza with extra garlic — you can thank me later!
Toiletries — Toothpaste and toothbrush in case you don't listen to me about the food! Glasses or contact lens cleaner if you need them.
Birth ball — Many hospitals provide this excellent labor tool for moms, but I recommend bringing your own if you have one. Your partner can sit on it, put his feet up on it — much more comfortable than just sitting on a chair.
Birth plan — A copy of mom's wishes for labor and birth will come in handy when there's a shift change of new doctors or nurses or if labor gets overwhelming and you need a reminder of what mom wants. Just remember that labor is unpredictable, and medical situations may arise, or she may simply change her mind.
Tell us
What's on your partner's labor checklist?
More about labor and delivery
Labor bag bargains
Secrets of the labor and delivery room
Pick the perfect doula