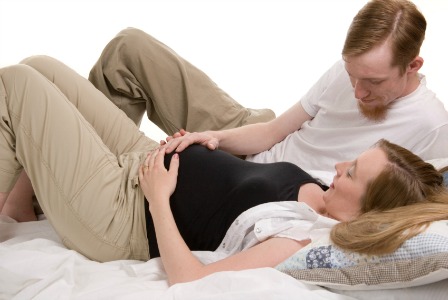 Before baby arrives, moms and dads have the opportunity to take a variety of prenatal classes. We asked real moms if they found these classes helpful. Find out from experienced moms which classes really help prepare you for parenthood.
Are prenatal classes really helpful?
Wondering if you should take that childbirth preparation class or the one on breastfeeding? If you're a new mom, prenatal classes can take a lot of the stress out of preparing for motherhood. We asked real moms to share which classes were helpful, and which were not.
Worth it: Preparing for the unexpected
"I didn't do a hospital-based one, so the group was pretty earthy crunchy, and the curriculum included a lot of information about alternative birthing, along with traditional info," says Marjorie. Though Marjorie's childbirth class focused on natural childbirth and alternative parenting methods, it also covered hospital and NICU procedures. As a result, Marjorie felt more prepared when her labor with twins didn't go as planned, and one of her babies ended up staying in the hospital.
Worth it: Learning the ins and outs of infant safety
"Infant safety was the best," says social media professional Courtney Cairns Pastor. "It was CPR, baby-proofing and a car seat installation inspection (car seats are really easy to screw up)." Courtney advises moms to pay attention to everything, even if they don't think it applies. "I kind of zoned out during the C-section portion of the childbirth class because I wasn't going to have a C-section... and then I had an emergency C-section."
Worth it: Hands on practice before baby arrives
"We took a baby care class at the hospital that went over the basics," says Ashley. "We learned how to swaddle, positions for holding, burping and [changing] diapers. It was helpful for baby #1 as the husband and I did not have newborn experience." Ashley found the labor and delivery class she took to be a waste of time, but recommends trying any class you can get real hands-on instruction in.
Worth it: Preparation for natural childbirth and breastfeeding
If you plan on natural childbirth, classes can be especially helpful. Freelance writer Rebecca Bahret took Bradley Method classes with her husband. "They completely educated us on the entire physiology of birthing. Well worth it, as they allowed us to achieve unmedicated births with both of our children," says Rebecca, who had one of her children at home. "They also taught tons about breastfeeding, which came in super handy down the road."
More moms chime in on prenatal classes
Blogger and mom of two Joanna says, "Childbirth class saved our lives because I knew to go immediately to the hospital if I started bleeding. I had a placental abruption due to my son's umbilical cord being wrapped around his neck 4 times."
"As a nurse and a mom I think every parent should go to infant/child CPR classes," says Ali.
"My first baby came too early for me to have a childbirth class, and I felt completely unprepared for everything — what to expect during childbirth and C-section in particular," says blogger Heather Spohr.
Melissa Lasko says she learned more from books than from classes. "If you think you're going to be in control of the process, you're gonna be surprised, I guarantee it!"
More on preparing for baby
Questions for potential childbirth instructors
Secrets of the labor and delivery room
How to write a birth plan