Bonding During Baby's First Hour After Birth
You've anxiously awaited nine long months to meet the munchkin growing inside of you, but it's the first hour after birth — dubbed the golden hour — that may have the biggest impact on mother-baby bonding. While traditional practice had babies whisked off to a corner of the delivery room to be checked, cleaned, prepped and swaddled before being delivered to your arms, it's skin-to-skin time and more that's becoming the routine. Before you miss out on the precious opportunity to connect with your newborn, find out how to make the most of the golden hour.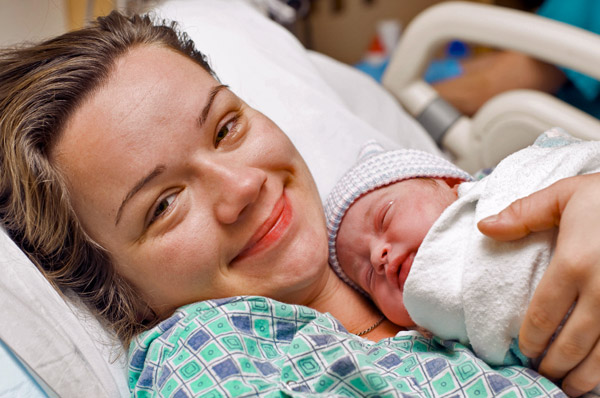 Score immediate skin-to-skin time
Despite the whirlwind of nurses and medical equipment that are on hand to see that your pea in the pod makes her way safely into the world, nothing is more beneficial to your newborn than skin-to-skin contact immediately after delivery. "If all is well with Baby and Mother, place the baby on Mom's uncovered chest, face down which allows for cuddling and kissing Baby," advises Dr. Roseline Dauphin-Baptiste, OB-GYN, livingbeautiful.net. "Dad should also participate by placing his hands to support the baby or by placing arms around both to embrace them." Even the American Academy of Pediatrics has modified its policy statement urging hospitals to discontinue or revise policies that interfere with skin-to-skin contact, so don't hesitate to make your delivery room wishes known.
Delay postnatal procedures
While weighing, bathing, antibiotic eye drops and vitamin K shots are vital to your infant's health, delaying these procedures until after you have gotten some major mother-baby bonding time under your belt may be more beneficial to your newborn, according to Dr. Robert W. Sears. However, that's not to say that you should skip these practices altogether; you can simply request that as many of them as possible are performed while your little cuddle bug is snuggled soundly against your skin, such as the first physical assessment, and then the rest can follow beyond the first hour after birth.
Breastfeed during the first hour after birth
In harmony with the WHO/UNICEF Ten Steps to Successful Breastfeeding program, breastfeeding during the golden hour is essential to mother-baby bonding. While only colostrum is present in your breasts, golden hour-nursing also releases hormones that help your uterus contract and stop bleeding and kicks your milk ducts into gear. In addition, Dr. Sears reports that suckling stabilizes your baby's vitals, easing her transition into the world while also fostering successful breastfeeding once you both head home.
Long before you head to the delivery room, be sure to check with your hospital on their policies about mother-baby bonding during the first hour after birth. Because even if you cannot score all three tips for bonding, at least push for skin-to-skin time during the golden hour to help facilitate a stronger bond between you and your bundle of joy — it can last a lifetime!
Read more tips on baby bonding
8 Ways for dads to bond with Baby
Can you bond with your unborn baby?
10 Baby-bonding tips