Sharing through social media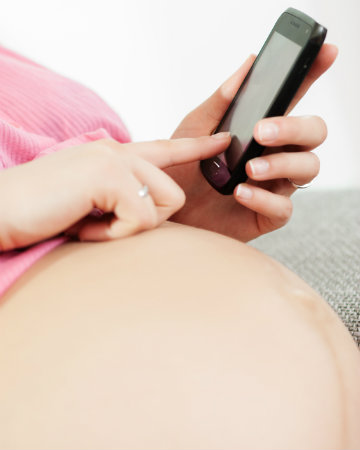 Dish the dirty details
TMI and social media like Twitter and Facebook go hand-in-hand, but there are actually benefits to sharing your labor and delivery journey with the world.
From documenting your experience to having a virtual cheering section through the most difficult phases of labor, check out these five reasons to tweet during labor.
Document your experience
Today's digital mama is taking the baby book beyond the fill-in-the-blank paper versions of mothers before her. Blogs, online photo albums and social media updates on your bundle of joy are the new way to document your pregnancy, labor and delivery and your baby's first precious years. Filled with recounts, photos and comments, you'll not only be recording your own thoughts and experiences, but the reactions of your family and friends as well.
Be distracted
Sometimes Lamaze can only take you so far; that's when a hand of cards, chatting with your partner and your Facebook, Twitter and MySpace accounts come in to save the day. Whether it's a long labor or simply a way to keep your mind on something other than painful contractions, updating your social media pages can get you through a sometimes long and excruciating labor.
Keep friends and family up-to-date
Not everyone is lucky enough to have future grandparents in the waiting room, so social networking while in labor can keep your loved ones in the know, even when they're hundreds or thousands of miles away. It's also a creative way to keep people from calling non-stop, so be sure to let friends and family know in advance where to turn to for information on the laboring mama.
Only share what you want
It's easy to argue that waxing poetic during labor isn't hurting a soul, while others may claim it's TMI. However, keeping up on your social media doesn't necessarily mean you have to include all the gory details — or actively update your page while you push. And, whether you limit it to text or plaster your Facebook or Twitter page with pics, the final call is up to you.
Find virtual support
If you're not having a dream labor and delivery experience, and when complications or worries are weighing you down, hearing from your friends, family and followers can pose the perfect cheering squad to lift your spirits. You may even find someone else you know that has gone through the same challenges, so tweet it up — you may find answers to your challenges right under your nose — or, at the least, a more positive way of looking at things.
Although these five reasons to tweet during labor focus mostly on Mommy-to-be, when labor gets too intense or when you're ready to push, hand over the tweeting responsibilities to Dad-to-be. It's not only near impossible to enter text coherently during this final stage of labor and delivery, it's also a great chance to get your partner's perspective on what's going on while still keeping your Facebook and Twitter friends and family abreast on the arrival of your bundle of joy!
Pick up more tips on labor and delivery
Tips for the first stage of labor
Doctor or midwife: Which should you choose?
How to speed up labor