How To Prepare For Possible Complications
When planning a home birth, the last thing on your mind is having to go to the hospital. While low-risk labor and birth usually goes smoothly, complications can arise — many can be handled by a midwife at home, but it's important to have a backup plan ready just in case a transfer becomes necessary.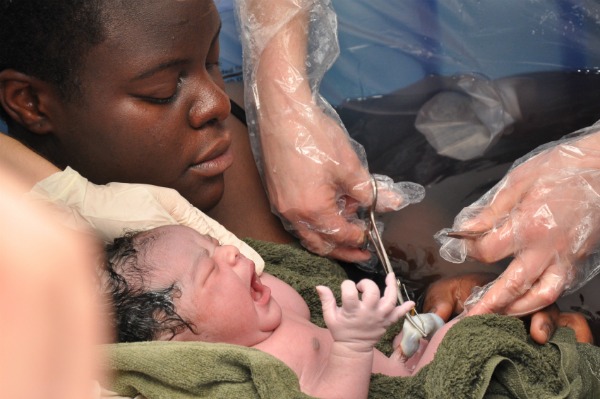 Factors that mean you could 'risk out' of home-birth care
Kimberly McGuinness-Rook, CPM, LM says "Midwives are experts in taking a thorough medical history. Ideal home-birth candidates are low risk healthy women. Midwives do not care for high risk pregnancies — this in turn is what helps to keep home birth safe."
So, what makes a mom high risk?
"Some of the reasons a woman would be risked out of care prenatally, during the birth or postpartum would be hypertension — high blood pressure — diabetes, placenta previa, fetal malpositioning,
pre-eclampsia, prolonged rupture of membranes, pre-term labor, going postdate by more than two weeks or a request for pain medications by the mother — albeit rare — as this is not an option at home," McGuinness-Rook explains.
What to know if you need to be transferred to the hospital
If complications arise that are out of your home birth midwife's scope of practice, you'll need to transfer to the hospital. If your midwife has a good relationship with a doctor, the transfer of care should go smoothly — but that can be easier said than done depending on if you live in a midwife-friendly community.
Amy Romano, CNM, co-author of the book, Optimal Care in Childbirth: The Case for a Physiologic Approach says, "Most situations that would lead a woman to 'risk out' of a planned home birth are not emergencies. But if an urgent situation does come up, the smoother the collaboration between the home-birth provider and hospital-based providers, the better. This is something women would be wise to explore early with their midwives, well before a complication arises. The ideal scenario is that the hospital providers have an established and trusting relationship with your home-birth providers, the medical record is shared openly, and the home-birth midwife can come to the hospital and continue to be part of the care team."
Bottom line? Ask your midwife how she handles transfers — which hospital does she usually go to? Does she have a good relationship with a particular doctor? Other important questions to ask — well before you're in labor — can be found on Childbirth Connection.
The safety factor
There are no guarantees for a perfect birth — but if you're low-risk, home birth is a safe option.
Romano explains, "Studies show that in healthcare systems that limit home birth to healthy, low-risk women and have standards for collaboration and referral, the risk of newborn death or serious injury is very low and similar regardless of whether the woman plans a home or hospital birth. Where we see an excess of deaths with home birth, a closer look at the data shows that these safeguards were not in place."
McGuinness-Rook adds, "The key to midwifery care though is preventative, individually tailored care for all women. With this we see happy and healthier moms and babies."
Read more
Planning a home birth: It's not just for hippies anymore
Planning a home birth: Convincing everyone you're not crazy
Step-by-step guide to a home birth