How To Plan For A Christmas Baby, Including How To Make Their Future Birthdays Special
If your due date is in late December, you may be wondering how to plan for the fact that Santa may be bringing you a newborn baby for Christmas. What a great present! Find out how to make your baby's December 25th birthday special, while also celebrating the Christmas holiday.
Jessica Levco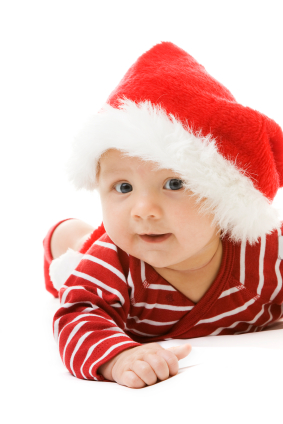 Kathy McGinty, a staff nurse on the mother and baby unit at NorthShore University HealthSystem in Evanston, Illinois, said that on average, the hospital is expecting eight to ten babies born on December 25. The hospital is ready for Christmas babies, decorated with huge Christmas trees and wreaths to put families in a festive mood. Each baby born on Christmas receives a hand-made Christmas hat; Jewish babies receive a blue and white hat.
"I think it's very special to be born on Christmas," McGinty said. "But, I'm not sure how many parents want it to happen." Celebrating a birthday on Christmas can be a challenge, McGinty said.
 
"It's hard to know how to make the child's birthday special," McGinty said. "The birthday can be an afterthought." McGinty, the mother of four children, has a daughter born on December 12th. She is happy her daughter's birthday is in December because it kicks off the whole Christmas season.  
 
How to make a Christmas birthday special
You can make a Christmas birthday special if you plan ahead. "It depends on family traditions, but you could have the child's birthday the Sunday before Christmas," McGinty said. Or you could just celebrate your child's birthday during a different season. That's how Christmas baby Callie Smothers, 16, celebrates.
"During Christmas, not all my friends are home," Smothers, a resident of Chelsea, Ala. said. "So, sometimes my friends and I will pick a random day during the summer and that's when we'll celebrate my birthday." Smothers has mixed emotions about her date of birth. "Sometimes, it's really fun," she says. "Not a whole lot of people can say they were born on Christmas. It makes your birthday ten times greater."
 
 "I'm glad I'm not born on Mother's Day or Father's Day," she reasons. "That's the day when you're supposed to honor your parents."
Planning for a Christmas delivery
Besides the birthday dilemma, McGinty said holiday births can add more stress to the parents. She advises parents to have all their Christmas shopping done beforehand and to plan ahead. Don't be afraid to ask relatives for help. Keep it simple.
"Don't even worry about making Christmas dinner," McGinty said. "And don't try to make any big, elaborate plans because you never know what can happen."
And of course, there's the holiday name game. McGinty said the most popular December name for girls born at the hospital is Holly. As for the boy's names, some parents can truly get in the spirit and name their son Jesus, Rudolph or Santa -- although she doesn't see that happen too often. 
The Christmas newborn baby
Seeing a mom in the hospital on Christmas can tug at this veteran nurse's heartstrings.
"The mom is torn between her old and new family," McGinty said. "She wants to be with the new baby, but knows that everybody is celebrating at home. Around 10 a.m., that's when her family will start to come in, with all the older brothers and sisters holding presents for their new sibling."
I am sure it is at that moment that every new mom will feel that holding a healthy baby in their arms is truly a miracle every day of the year.
Read More: